Ruth Lamb
Godfrey | Sunday, March 27 2022 |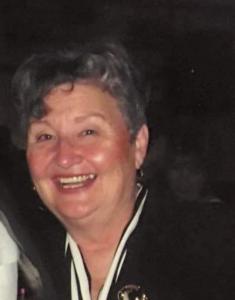 Ruth Christine (Walz) Lamb, 84, of Godfrey, IL, entered into eternity, gracefully and wearing a smile, greeted by her Savior, Jesus Christ, and then surely into the waiting arms of her beloved husband Hank, on Monday, March 28, 2022. Born on September 27, 1937, in Carrollton, IL to Gerald "Fred" and Ruth (Crane) Walz, Ruth was the oldest of 6 children.
On June 9, 1956, Ruth married her biggest fan, best friend and truly the love of her life, Henry "Hank" Lamb, Jr. at Peace United Church of Christ in Jerseyville, Illinois. After that, the fun began, growing into a family with 4 children, 16 grandchildren and 16 great-grandchildren (with 3 more on the way!), not to mention the hundreds of bonus kids she gained along her life journey. She thrived in her role as matriarch of the family, and that is where she was most fulfilled; hosting, serving, caring, cooking, praying, loving, hugging, kissing, soothing, encouraging those who loved her.
Family members weren't the only ones so warmly welcomed into the Lamb home. Ruth opened the door and her arms to anyone who walked up to the house. Always with a smile and kind words, usually with a lot of food, she made sure that anyone that came into her house knew they were loved. Sacrificing for others was second nature to her, and she wouldn't have it any other way. Taking Jesus Christ as her example, she served others with great joy. It was truly her God given gift to be of service to anyone and everyone.
Ruth graduated from Carlinville High School in 1955, and moved to Alton. There, she worked in a downtown Alton business office, and met her future husband on a blind date that summer. Through the years, Ruth worked at several different businesses, but found her passion in volunteering in many different organizations - St. Elizabeth Hospital Auxiliary, Madison County Mental Health Board, Granite City Library Board, League Of Women Voters, Panel Of American Women and the Urban League, among others. Along with Hank, Ruth enjoyed performing in local little theater, often with their children. During the summer, she could be found lane judging a swim meet while Hank called the races. Still, she found time to bowl weekly for dozens of years, up until 2020.
Just as she had for her children and grandchildren for decades, Ruth cared for Hank in his last few years. After her one and only love passed, Ruth fought many health issues, but never lost her beautiful signature smile and eyes that shined with love. The staff at Cedarhurst of Godfrey loved her like family, took care of her like their own mother and share in the family's grief of losing the bright light that was Ruth Lamb.
Ruth is survived by her adoring children, Jeffery Lamb of Ashland, Dawn (Mike) Montgomery of Godfrey, Shannon (Craig) Sondker of Grafton, and Jonathan (Beth) Lamb of Janesville, Wisconsin; grandchildren Destiny (Brad) Kwas, Micah Lamb, Evan (Leah) Lamb, Klaus Lamb, Wesley (Kaylia) Lamb, Patrick (Jordan) Lamb, Jacob (Eowyn) Montgomery, Kyle (Amanda) Montgomery, Dylan (Sarah) Critchfield, Taylor (Sydney) Critchfield, Miranda (Anthony) Burgess, Hannah Lamb, Austin Lamb, Liam Lamb, Autumn (Nick) Wunderlich, and Adrianah Smaga, as well as 16 great-grandchildren. Also surviving are her brothers, James Walz of Jerseyville, Pat (Patsy) Walz of Jerseyville, sister Martha "Marti" Hankins of Collinsville, sisters-in-law Melita Walz, Helen Walz, and Maryann (Vern) Schaaf, as well as many nieces, nephews, cousins and friends.
In addition to her husband, preceding Ruth in death were her parents, brothers Frederick, Michael and (Gerald) Richard Walz, sister-in-law Leona Walz and brother-in-law Harold Hankins.
Per her wishes, cremation rites are being accorded by Elias Kallal and Schaaf Funeral Home, 1313 W. Delmar Ave, Godfrey, where a Celebration Of the Lives Of Henry and Ruth Lamb will be held Saturday, April 9, 2022 from 1:00 p.m. to 3:00 p.m. followed directly by a short service.
In lieu of flowers, donations may be made to Alzheimer's Association and/or the Autistic Self-Advocacy Network. Online condolences and guestbook may be found at www.kallalandschaaf.com.
Obit Provided By:
Elias, Kallal & Schaaf Funeral Home