Ruth Swarringim
Jerseyville | Thursday, July 8 2021 |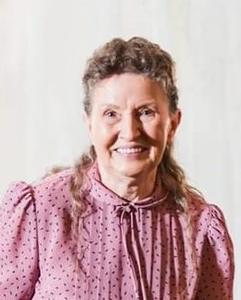 Ruth Ann Swarringim, formerly of Jerseyville, left this world to go home to be with her Lord and savior Jesus Christ on Thursday, July 8, 2021 at age 77 after a long and courageous battle with cancer, surrounded by loved ones who will continue to honor her legacy by living their lives with many of the same values she passed down. Anyone who met Ruth would tell you she had a 'heart of gold' or a 'special glow about her'. An angel in disguise, her overabundance of selfless love radiated from her, making her stand out as an amazing mother, grandmother, great-grandmother, sister, and dear friend to many.
She was born to Margery (Russell) Scheffel and Lowell 'Chick' Huett on September 29, 1943. Ruth enjoyed reflecting on her school age years, growing up in the country. It was during this time in her life when the beautiful traits that made Ruth exceptionally special were instilled within her: Love the Lord with all your heart, keep life simple, be content with what you have, work hard (with your hands), appreciate every moment and everything you have, and love your family and the ones you are with. This is how Ruth embraced every moment of her life.
As a school age girl, Ruth would tell you, "I loved spending time with and helping my mother [Margery]". It was during this time that Ruth developed her amazing work ethic, studied hard in school, and helped take care of her younger brothers and sisters; and once she became old enough, she began working on family farms, detasseling corn by hand. She would often say "It was hard work but I enjoyed this time in my life". In her spare time, she enjoyed learning from her mother how to sew and make her own clothes. She also found joy in playing the guitar (by ear), and even wrote many of her own songs.
After graduating from Jerseyville Community High School, Ruth could have pursued a modeling career (she was beautiful). But because she enjoyed working with her hands, Ruth chose to first work at a garment factory in Missouri and then at Owens Illinois Glass Co. 'Glassworks' factory. She later found a job that fulfilled her calling to care for people at Jerseyville Community Hospital, where she helped others and worked tirelessly at a long career that extended nearly 29 years.
The simplest pleasures in life brought great joy to Ruth. She deeply cherished the time with her grandchildren and family. Showering them with love and attention at every opportunity, she would drop whatever she was doing when asked to sew up 'do surgery' on stuffed animals or play board games, always making sure her grandkids somehow won more games than they lost. Even if only sitting awhile watching shows, visiting or being asked to offer sage advice would make Ruth light up and outpour her heart and love.
When not spending time with her family, she loved to crochet, bake (the best chocolate chip oatmeal cookies ever), fish, and even target practice (she could accurately out-shoot just about anybody). She had a unique ability to find happiness in her daily activities, whether working outside planting flowers to make the yard a beautiful place (a gifted green-thumb), sitting peacefully playing her guitar, or cleaning and organizing her home (never have I seen a more organized and clean home).
Ruth's genuine heart-felt personality, kindness, compassion and love was contagious to everyone she met. She rarely missed sending a birthday, Christmas, or special occasion card to her family and friends. Ruth is preceded in death by: Her parents, Margery (Russell) Scheffel and Lowell 'Chick' Huett and her sister, Janice Tepen. Ruth is survived by her son Mark (and Kendra) Swarringim; four grandchildren, Nathan (and Erica) Swarringim, Jacob (and Abby) Swarringim, Brooke Swarringim and Alyssa Swarringim; one great-grandchild Lila Swarringim; sisters and brothers, Linda Holmes, Jack Huett, David (and Brenda) Spangle, Bernard Russell Spangle, Robert Spangle, Lisa Spangle, and Lana Scheffel; along with many nieces, nephews, and cousins; all of whom she loved so dearly.
Mom,... Grandma,... Sis,... Aunt Ruth Ann,... Ruth,... we love you and you will be eternally missed!!!
Family and friends are invited to attend visitation and funeral services at Crawford Funeral Home, 1308 State Highway 109, Jerseyville, IL. Visitation will be held on Friday, July 23, 2021 from 5:00 p.m. to 7:00 p.m. Funeral Services will be conducted at 10:00 a.m., Saturday, July 24, 2021 at Crawford Funeral Home in Jerseyville, with Rev. Wilbur Cain officiating. Graveside services will immediately follow at Borlin Cemetery in rural Carrollton.
In lieu of flowers or plants, memorials may be given to the Family in care of Crawford Funeral Home, who has been entrusted with arrangements; or you can make a charitable donation in Ruth's name to the Wounded Warrior Project or Cancer Research Institute.
Obit Provided By:
Crawford Funeral Home