Rudolph Aleman
Granite City | Thursday, February 10 2022 |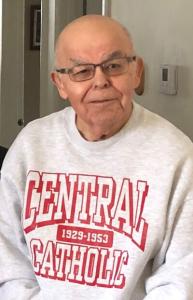 Rudolph Aleman, 94, of Granite City passed away Thursday, February 10, 2022, at Meridian Village in Glen Carbon. He was born on December 27, 1927, in Fairmont City, IL. He married Rose Rathjen on October 17, 1970, at Holy Rosary Catholic Church in Fairmont.
Rudolph graduated from Central Catholic High School in East St. Louis. He was a longtime officer of Lodge 1603 Brotherhood of Railway and Airline Clerks. He was employed by Universal Freight System for 33 years and retired from US Army Aviation Systems (AVSCOM) in 1993. He was a former parishioner of Holy Rosary Catholic Church in Fairmont and was a current member of St. Elizabeth's Catholic Church in Granite City. Rudolph served his country in the United States Army during the Korean War. An avid golfer, he had 2 holes-in-one and was a member of Wednesday Morning Senior League at Arlington Greens.
He is survived by his wife of 51 years Rose Aleman of Granite City; children, Lori Morgan of Ballwin, MO, Denise Reedy of Overland, MO, Lynn Rathjen of Iowa and Matthew Aleman of Pontoon Beach; grandchildren, Sarah (Scott Farroll) Morgan, Jacob Reedy, Justin Rathjen, and Michael Rathjen and great-grandchildren, Abigail and Kyle Aipperspach; brother Charles Aleman; sister in law, Mary Ann Aleman; nieces, Angela Aleman and patty (Michael) Fiudo; nephew, Michael (Betty Hou MD) Aleman MD; great-niece, Danielle Fiudo and great-nephews, Edward Fiudo, Nico Aleman and Dory Aleman.
He was preceded in death by his parents, Abraham and Cleo (nee: Mena) Aleman, and brothers, Abraham Jr and Richard Aleman.
A Mass of Christian burial will be held at 10 A.m. Wednesday, February 16, 2022, at Holy Rosary in Fairmont City. Burial will be at Mt. Carmel Cemetery in Belleville. Wojstrom Funeral home & Crematory entrusted with professional services. Online guestbook is available at www.wojstrom.com.
Obit Provided By:
Wojstrom Funeral Home & Crematory Inc