Roy Foster
Jerseyville | Thursday, December 17 2020 |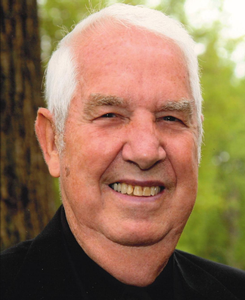 Roy Edward Foster, 93, passed away at 12:24 p.m., Thursday, December 17, 2020, at his residence.
He was born on May 1, 1927 in Jerseyville and was the last surviving of eight children born to the late Joseph and Freda (Liffets) Foster.
Roy served our country honorably with the United States Army during World War II, stationed in Germany.
He was a loyal member of Peace United Church of Christ in Jerseyville as well as the local VFW and the former Moose Lodge in Jerseyville.
Never one to shy away from a hard days work, Roy worked tirelessly to provide the best life for his wife and their children, often times working various side jobs in addition to his position as a Tools and Parts Specialist with McDonnell Douglas.
He married Virginia F. Wheeler on July 3, 1948 in Alton. Their 64 years of marriage was blessed beyond measure and they thoroughly enjoyed spending time with one another and their large family, prior to her passing on February 6, 2012.
Shortly after their marriage, on Virginia's 16th birthday, December 6, 1948, they purchased their home on Baxter Avenue in Jerseyville. Within their home they lovingly raised their children and welcomed with open arms their grandchildren that followed. In many ways, the home on Baxter Avenue was considered to be 'The House that built me' for the entire family over the past 72 years.
Roy was truly a jack of all trades and there was no project too big or small that he wasn't willing to tackle and complete with ease. He was an avid outdoorsman and enjoyed tending to his garden as well as fishing and hunting and was quite proud of his vast coin collection as well.
His entire life was spent working to provide a stable and welcoming home for his family and they all, most especially his grandchildren, provided him with the most treasured moments of his life.
Surviving are six children and their spouses, Angela Gibson of Jerseyville, Alan and Janet Foster of Otterville, Adam and Lisa Foster of Jerseyville, Alex Foster of Jerseyville, Acinda and James Eschbach of Jerseyville and Andrea and Terry Roach of Jerseyville; a son in-law, Steven Brunaugh of Jerseyville; 17 grandchildren and their spouses, Tamara and Robert Shaffer, Christina and Steve Smith, Jeremy and Jennifer Gibson, Lyndsey and Zach Devening, Hope and Greg Johns, Jason and Gwen Brunaugh, Joshua and Katie Brunaugh, Emily and David Fry, Rodney Foster, Ethan Foster, Hunter Foster, Cassandra Foster, Jenna Eschbach, Janie and Brenton Hill, Zachary and Heather Wilschetz, Hanna Roach and Michael Roach; 20 great grandchildren, Andrew (Gabby) Shaffer, David Shaffer, Jayme Shaffer, Ginny Shaffer, Kaylynn Smith, Coby and Caroline Gibson, Gunner and Gracie Devening, Sarah Hartman, Jaxon and McKenna Brunaugh, Clayton and Tanner Brunaugh, Easton, Bodhi and Alicia Fry, Ayden and Caleb Wilschetz; a great-great grandson, Braxton Shaffer; along with a sister in-law, Joan Foster of Jerseyville.
In addition to his parents and his wife, he was preceded in death by an infant son, Rodney Foster; a daughter, Alicia Brunaugh; a son in-law, Bruce Gibson; two brothers, Ernest and Bill Foster; five sisters, Florence Russell, Agnes Woosley, Dorothy Russell, Doris Irene Shaw and Anna Haneline.
Private visitation will take place at Crawford Funeral Home in Jerseyville.
Friend and family are invited to attend graveside services at 2 p.m., Monday, December 21, 2020 at Kane Cemetery with Rev. Wilbur Cain officiating. Jerseyville American Legion Post #492 will conduct full military honors.
In lieu of flowers or plants, memorials may be given to Alzheimer's Association or to the American Diabetes Association.
Obit Provided By:
Crawford Funeral Home