Rosette (Rose)
Paxton | Tuesday, April 27 2021 |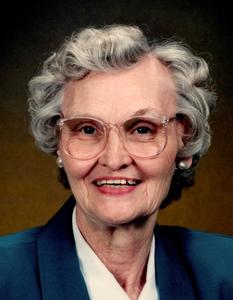 Rosette M. Gasperson (Rose), age 98, passed away on April 27 in Paxton, IL.
Rose was born on a farm in Clayton, IL, the third of eight children, to John E. and Rosette Buss on November 8, 1922. She attended and graduated from a local one-room school.
During World War II, she worked as one of the original "Rosie the Riveters" at McDonnell Aircraft in St Louis, MO, where she met her husband, Basil Gasperson. They married in California on June 4, 1944. They had four children.
Over the years, the family resided in Missouri, Texas, and California before settling in Bunker Hill, IL. Rose operated the Clayton Café in Clayton, IL, and for many years, the Family Shoe Center in Bunker Hill. She was a dedicated member of Zion Lutheran Church in Bunker Hill.
Rose enjoyed sewing and needlework, making most of her daughters' clothing and hand sewing a quilt for each of her four children and nine grandchildren. She also took up oil painting in her later years.
Rose is preceded in death by her husband, Basil, son, Stanley, and six siblings.
Rose is survived by her children Sandra Graf of Warsaw, MO, Linda Piedra of Wickford, RI, and Brenda (Dan) Brunworth of Mahomet, IL, as well as her sister Pansylene Stauffer of Clayton, IL, her daughter-in-law Nancy (Broadbooks) Gasperson of Bloomington, IL, 9 grandchildren and 12 great-grandchildren.
A private graveside service at Bunker Hill Cemetery will be held on May 1 with Reverend Brian G. Holle of Zion Lutheran Church, Bunker Hill, officiating.
Rose was a long-time supporter of St. Jude Children's Research Hospital. Memorials may be made to St. Jude in care of Kravanya Funeral Home, P.O. Box 519, 875 S. Washington St., Bunker Hill, IL, 62014.
Anyone wishing to send an online condolence may do so at www.kravanyafuneral.com.
Obit Provided By:
Kravanya Funeral Homes