Rosemary Evans
Alton | Wednesday, July 20 2022 |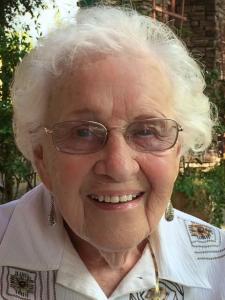 Rosemary Evans, 97, of Alton, Illinois, passed away July 20, 2022, in Copperas Cove, Texas, well-loved and with her family by her side.
She was born to the late William and Frieda Walter, on Sept. 2, 1924, in Alton, Illinois. After graduating from Alton High School in 1942, Rosemary tried to join the military in World War II but was turned away. Undeterred, Rosemary became a "Rosie the Riveter" supporting the effort from home. She would later go on to blossom as a professional secretary, "training" more than 10 bosses over 40 years. In her 60s, she went on to get her Associate's Degree.
She married the love of her life, Richard Evans, in 1948. He preceded her in death in 2015. Rosemary is survived by her children Barbara Steps, Mary Jane Lockhart (Steve), and Joe Evans (Sara), grandchildren Dr. Kelly Lockhart (Jeff Breitenfeldt), Nikki Lockhart (Mateo Samper), Dr. Michelle Evans (Kevin Souza), and Laura Evans, and great-grandson Io Breitenfeldt.
Rich and Rosemary were always on the move. They resided in 9 homes in three different states, building 4 of them from the ground up. Rosemary seemed to live by two rules: never sit down and never stop giving. This is highlighted by her beautiful yards and gardens she always maintained into her 90s, her tireless work in the church, volunteering at the Evangelical School library, tutoring young students, and even riding her tricycle 113 miles for charity during the summer before she turned 96.
Rosemary lived life unabashedly and charmed everyone she met. She never let a pesky thing like age stand in the way. Beginning in her 70s, Rosemary hiked the Grand Canyon; traveled to Italy, Spain, Ireland, Costa Rica, Portugal, Morocco, the United Kingdom, and Germany; and rode her first camel. She celebrated her 90th birthday with a girls' road trip, wine tasting and visiting the redwoods in California, and watching Shakespeare in Oregon. She was a big fan of going to the gym and coercing bodybuilders off the machines she wanted ("Are you done yet? It looks like you're just sitting there."). She loved the St. Louis Cardinals, and had no issue letting the players know when she wasn't mad, just disappointed in their performance. She even went to her first Pride parade at 93 ("This is marvelous!").
A celebration of her life will be held on Sunday, September 18, 2022, at 2 p.m. at Evangelical United Church of Christ, 1212 W Homer M Adams Pkwy, in Godfrey, Illinois. In lieu of sending flowers, donations may be made in memory of Rosemary to the Evangelical School Library or the American Cancer Society – cancer.org