Rose Bosotin
Granite City | Tuesday, February 9 2021 |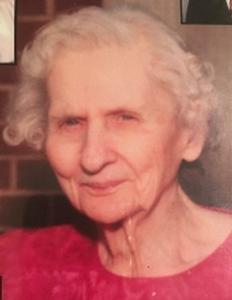 Rose M. Bosotin, 105, of Granite City, Illinois passed away at 1:25 p.m. on Tuesday, February 9, 2021, at The Care Center of Center Grove in Edwardsville.
She was born August 30, 1915, in St. Louis, Missouri, a daughter of the late Andrew and Helen Zgombic.
She married John Bosotin in 1934 at St. Joseph Croatian Church in St. Louis and he passed away in 1983.
She was a faithful member of Holy Family Catholic Church in Granite City.
She is survived by two daughters and a son-in-law, Virginia Buecker of Troy, Illinois, and Ann Marie and James Boennighausen of St. Charles, Missouri; seven grandchildren; twelve great-grandchildren; three great-great-grandchildren; other extended family and friends.
In addition to her beloved husband and parents, she was preceded in death by a daughter, Joan Bosotin, and a son-in-law, Richard Buecker.
In celebration of her life, a Funeral Mass will be held at Holy Family Catholic Church, 2606 Washington Avenue in Granite City at 10:00 a.m. on Tuesday, February 16, 2020, with Father Steve Thompson as celebrant.
Burial will follow at Calvary Catholic Cemetery in St. Louis. Masses may be accepted at the church.
Irwin Chapel of Granite City in charge of arrangements www.irwinchapel.com
Obit Provided By:
Irwin Chapel Funeral Home