Roger Vahle
Kane | Monday, April 21 2014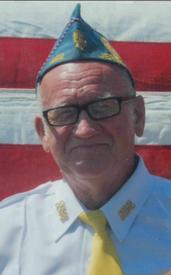 Roger LeRoy "Cat" Vahle, 71, died suddenly at 5:37 p.m., Monday, April 21, 2014 from injuries sustained in a tractor accident in Jersey County.
He was born on Feb. 26, 1943, one of three sons born to the late Louis O. and Ilda Marie (Cunningham) Vahle Jr.
A 1961 graduate of Jersey Community High School, Roger was employed as a mechanic at Jersey County Motors and Tri County FS in Jerseyville for many years, and was a successful scrap metal dealer. He took an active part in his sons lives, and coached numerous little league teams, and enjoyed racing and fixing cars, bowling and playing softball, and was a member of the Jerseyville American Legion Color Guard.
He married the former Rita Drainer on Oct. 19, 1963 at the St. Francis Xavier Catholic Church in Jerseyville, and the two have shared 50 years together.
Surviving are his wife, Rita Vahle of Kane; two sons, Kevin Vahle, and his fiance' Crystal Bastean of Kane and Lee Vahle of Jerseyville; five grandchildren, Lynsey Vahle, and her fiance' Jesse Pieper, Kody Vahle, Brennan Vahle, Joshua Vahle, and Alec Vahle; two brothers, Ronald Vahle & Rodney Vahle; a brother in law & sister in law, Roland & Debbie Drainer of White Hall; two sisters in law, Sue Bell of Kane and Roberta Haag of Jerseyville.
In addition to his parents, he was preceded in death by his father in law and mother in law, Hubert & Edna Drainer; and two brothers in law, Michael Haag and Duane Bell.
Visitation will be from 4 to 8 p.m. Friday at the Crawford Funeral Home in Jerseyville, where funeral services will be conducted at 10 a.m. Saturday. Rev. Wilbur Cain will officiate.
Burial will be in the Drainer Addition of the Kane Cemetery.
Memorials may be given to the St. Francis/Holy Ghost Catholic Schools in Jerseyvillle or to the Jerseyvillle American Legion Post 492 Color Guard.
Obit Provided By:
Crawford Funeral Home