Robert Richards
Alton | Monday, April 3 2023 |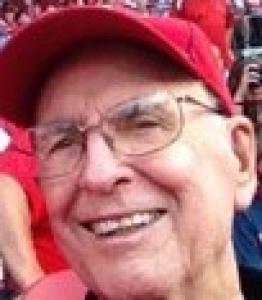 Robert Donald Richards "Bob", 90, formerly of Brighton Illinois passed away in Avon Park, Florida on Monday April 03, 2023.
He was born on May 7, 1932, to Joseph Henry and Delilah "Velma" (Futhey) Richards in Alton Illinois. He had 2 brothers, Michael and Mark, and 2 sisters, Thelma Ray and Jeannie Thomae.
He married Zelis Jean Cope on September 03, 1949. Together they had 3 children Rodney (Rebecca) Richards, Roberta (Terry) Wright and Ron (Michelle) Richards.
The couple moved to Brighton, Illinois from Godfrey in 1955 and moved to their home in Albrite Acers in 1960 where they resided for 63 years. He sold the family home in January of 2023, after moving to Florida with his daughter and son-in-law, after the death of his wife of 73 years in October of 2022.
Bob was preceded in death by his wife Jean, his son Rodney as well as his parents, 2 brothers and a sister. He is survived by his daughter Roberta (Terry) Wright, his son Ron (Michelle) Richards and his sister Thelma Ray. Bob and Jean have nine grandchildren, twenty-two great grandchildren and two great-great grandchildren.
Bob began working at the age of 16 for Owens Illinois in the cafeteria and retired in 1992 as an Industrial Engineer. He also worked at O'Reilly's Auto Parts for 6 years after retiring from Owens Illinois.
Bob and Jean enjoyed camping, swimming and boating during the years when their children were growing up. The family spent many vacations at Lake of the Ozarks with her brothers and their families.
After their children were grown, Bob and Jean enjoyed many years of square dancing and round dancing. They traveled to different states to participate in dance exhibitions.
Bob was an enthusiastic St. Louis Cardinals fan and enjoyed watching them on TV and going to games with his daughter and granddaughter at Busch stadium. His granddaughter Sarah treated him to a Cardinal/Cubs game at Wrigley field for his 84th birthday. He loved playing Sudoku and reading western and mystery novels.
Bob had been on hospice for close to 2 years after a fall in April of 2021. His daughter called him the energizer bunny as he just kept hanging in there after he bounced back from his initial decline. His wife of 73 years passed away October 23, 2022, and he moved to Florida with his daughter and her husband. He was placed on hospice in Florida. While in Florida, Bob enjoyed taking his scooter to the community center to get library books. He would pop over to the Billiards Hall and watch the "younger" guys play pool. He enjoyed making new friends, going out to eat and talking to people. He especially enjoyed telling his stories of work and play at luncheons for people who were from Illinois. He was happy living in Florida and died peacefully with his daughter by his side.
Visitation will be from 10:00 a.m. until time of funeral service at 12:00 noon Friday, April 14, 2023 at Gent Funeral Home in Alton. Burial will be at Valhalla Memorial Park in Godfrey.
Memorials are to BJC hospice in lieu of flowers.
Obit Provided By:
Gent Funeral Home