Robert Walters
Godfrey | Saturday, January 21 2023 |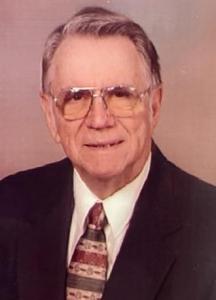 Robert John "Bob" Walters, 92, of Alton, passed away at 11:26 p.m., on January 21, 2023, at Cedar Creek, surrounded by his loving family.
Bob was born on July 1, 1930, in Alton, IL, the son of Joseph H. and Liguori C. (Dwiggins) Walters. He married Jeanne Osseck on May 19, 1956, at St. Louis Cathedral, in St. Louis, MO. Jeanne preceded him in death on September 18, 2009. Bob is survived by eight children; Jim (Angela) Walters of Normal, IL, Theresa Logan of Godfrey, IL, Linda (Justin) Scheiter of Godfrey, IL, Tom (Megan) Walters of Chatham, IL, Mike (Polly) Walters of Godfrey, IL, Carolyn (Bob) McCluskey of Godfrey, IL, Mary (Ed) Zamorski of Canton, GA and David (Karen) Walters of Godfrey, IL; twenty grandchildren, Jake (Paige) Walters, Ellen (George) Khoury and Jon Walters; Christopher (Casey) Logan and Patrick Logan; Sydney, Sam and Jackson Scheiter; Matt (Jenna) Walters and Ryan Walters; Hannah, Nathan and Meredith (Meme) Walters; Andrew and Daniel McCluskey; Alex, Ethan and Liesa Armstrong; and Valerie and Nina Walters; and three great-grandchildren, Evelyn Logan; Ella Walters; Isabella Walters. He was preceded in death by his beloved wife Jeanne, his parents, his sister Virginia and his brother Joseph; his son Robert John Jr., his son-in-law David Logan and his grandson Robert Logan.
Bob graduated from Campion Jesuit High School in Prairie du Chien, WI, and St. Ambrose College in Davenport, Iowa. After graduation, Bob served in the United States Army in Korea from 1953 to 1954. He then worked with his brother Joseph in the family business at J.H. Walters Company. He worked for the National Shrine of Our Lady of the Snows in Belleville, IL. In 1970, he was elected to the Illinois House of Representatives, where he proudly served his constituents for two terms. In 1978, he became Executive Director of the Southwestern Illinois Industrial Association until his retirement in 2000. In 2005, he was appointed to the Illinois State Board of Elections until 2012. Bob was also active with the Alton Foundation and William M. BeDell, ARC. He and his wife Jeanne founded the Serra Club of Madison County.
Many will remember Bob for his love of sports, as an athlete, a coach, and an avid fan of Alton Marquette Catholic High School, Alton High School, and Lewis & Clark Community College athletics. He tended to stand out in a crowd with an unlit cigar, an orange dayglow Winchester hat, and a wit that could make someone smile in any situation. His family will always remember him for his incredible faith in God, his attention to family and friends, and his undying love for his wife Jeanne.
In celebration of his life, visitation will be from 4:00 p.m.-8:00 p.m. on Thursday, January 26, 2023, at Gent Funeral Home in Alton. A mass of Christian burial will be at 10:00 a.m. on Friday, January 27, 2023, at St. Mary's Catholic Church. Burial will be at St. Patrick's Cemetery in Godfrey. Memorials may be made to Robert Logan Memorial Scholarship Fund, Marquette Catholic High School, St. Mary's Catholic School, or William M. BeDell, ARC. Gent Funeral Home is in charge of arrangements. Additional information and an online guest book may be found at www.gentfuneralhome.com.
Obit Provided By:
Gent Funeral Home