Robert "Bob" Allen Hartman, Sr.
Godfrey | Wednesday, May 18 2022 |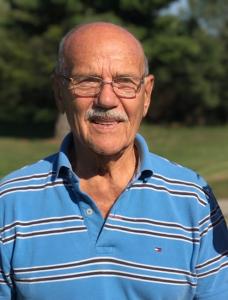 Robert (Bob) Allen Hartman, Sr., 91, passed away at 8:50 a.m. Wednesday, May 18, 2022, at his home with his family by his side.
He was born in Moweaqua, IL on February 20, 1931, the son of Lenard and Pearl (Sandage) Hartman.
He married Deloris (McNelly) Darr and she preceded him in death in 2014.
He was raised in Mooseheart, IL, and graduated from Mooseheart High School. Mooseheart was created to be a home for the widows and children of members of the Loyal Order of Moose. That was the case with Bob, his siblings, and his mother after his dad was killed in a mining accident. He supported Mooseheart in a variety of ways throughout his life.
He served in the US Navy in the fighting Seabees. His duty assignment included Mobile Construction Battalion #4, Guantanamo Bay, Cuba. He worked at A.O. Smith Corporation in Granite City and later retired from Olin Corporation in East Alton. He was a member of the Wood River Moose, Alton VFW, and Mooseheart Alumni Association. He loved to dance and taught ballroom and line dancing at Lewis & Clark Community College. He enjoyed woodworking, bead making, gardening, winemaking, traveling, and most of all, he had a great sense of humor and loved to make people laugh.
He was a devoted husband and beloved father. He is survived by his children and their spouses, Romona (Paul) Smith, Robert Allen (John) Hartman, Jr, Gwen Vollintine, and Neil (Beverly) Darr; nine grandchildren; and nine great-grandchildren; many nieces and nephews; and his special friend, Donna Spencer.
In addition to his parents and wife, he was preceded in death by a son, Lenard Hartman, a daughter, Victoria Fischer, and four siblings, Geneva, John, Bill, and Patricia.
In lieu of flowers, please make memorials to Mooseheart or the Wood River Moose Lodge #1349.
A Graveside Service will be held on Monday, May 23rd at 12 noon at the Garden of Good Shepherd in Valhalla Memorial Park in Godfrey. Elias, Kallal, and Schaaf Funeral Home in Godfrey is entrusted with professional services.
Online condolences can be found at Kallalandschaaf.com
Obit Provided By:
Elias, Kallal & Schaaf Funeral Home