Robert Thomas
Alton | Sunday, February 13 2022 |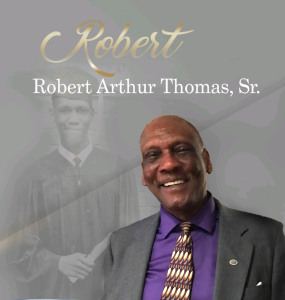 Robert Arthur Thomas Sr. was born April 27th, 1941 to the late Bernard and Pauline Thomas. His parents were natives of St. Mary's County, Maryland. Robert graduated from Alexander Graham Bell Vocational High School on June 14th, 1962 where he excelled in his general studies and specialized in carpentry and woodworking. He went on to voluntarily join the military and serve his country as a Sergeant in the United States Army. He was stationed at locations such as Schofield Barracks, Hawaii, Livorno, Italy, and served one tour of duty in Vietnam.
After serving in Vietnam, he returned to the states where he was stationed at Nike missile base in Milwaukee, Wisconsin. There he enjoyed a long-distance courtship with Lola Lee Horton. The two would wed on September 1st, 1967, becoming Mr. and Mrs. Robert and Lola Thomas. Together they would raise four children and remain married for 54 years.
Robert's crowning achievement was being a father. He could frequently be heard applauding the success of all his children. His children saw their father as a real-life superhero due to his moxie, grit, resilience, work ethic, durability, and perseverance. Even as adults, they still saw him as a hero. He was always present and never absent. Through ups and downs, he taught them to uphold an attitude of resilience and perseverance to conquer every obstacle life has to offer. He was a devoted and selfless partner to his spouse Lola. He was an amazing father to his children Sam, Robert Jr., Bernard, and Angela. He was a doting grandfather to his grandchildren Courteney, Alyssa, Adjunai, Xavier, and Sydney. He was an adoring great grandfather to Mason, Landon, Aria, Serenity, and Eric.
In his spare time, Robert loved volunteering for the church and working with his hands. He had a gift for carpentry, home renovation and restoration, and automobile mechanics. Once retired, his primary focus became spending time with his wife and family.
Robert Arthur Thomas Sr. departed this earthly home on February 13th, 2022.
Visitation Saturday, February 26, 2022, at Cathy M. Williams and Sons Funeral Home 1695 Oakwood Ave. Alton, IL 62002 with burial to take place Monday, February 28, 2022, at Jefferson Barracks National Cemetery in St. Louis, MO.
Obit Provided By:
Cathy M Williams & Sons Funeral Home