Rickee Riggins
Cottage Hills | Thursday, February 25 2021 |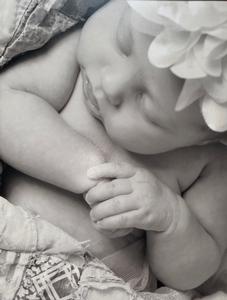 Rickee Jo Riggins, 2 months old, died at 11:09 a.m. Thursday, February 25, 2021 at Alton Memorial Hospital in Alton.
Rickee was born on December 30, 2020 in Maryville. She was the daughter of Thomas Lee Riggins of Vandalia & Rachel Danielle Davies of Cottage Hills.
Also surviving are two sisters, Makenzie Riggins of Bethalto, Kori Mellenthin of Cottage Hills; one brother Caleb Riggins of Wood River; grandparents, Rick & Stacey Davies of Wood River, Melinda Martin of Bethalto, Greg & Cathy Riggins of Vandalia; one aunt Melissa Riggins of Greenville; two uncles, Matt Davies of Bethalto, Tyler McNeese of Bethalto; many cousins.
Rickee is preceded in death by a brother, Brenden Michael Riggins; grandparents John & Linda McNeese; great-grandparents, Darrel Stephens, James & Betty Jane Davies, Harold Riggins and Wanda Riggins White, Stanley & Doris Burger; great-aunt Tammy Davies.
A life celebration will be at 5:00 p.m. until service time of 6:15 p.m. Friday, March 12, 2021 at Gray Funeral Home in Wood River with Rev. Kym Ragusa officiating.
Burial is private Saturday, March 13, 2021 at Rose Lawn Memory Gardens in Bethalto.
Condolences at www.grayfuneralhomeinc.com
Obit Provided By:
Gray Funeral Home