Richard Thomas Drury, Lt Col
Godfrey | Friday, November 19 2021 |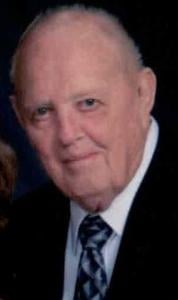 Richard Thomas Drury, Lt Col, retired, 89, passed away at 9:15 a.m. Friday, November 19, 2021, at Alton Memorial Rehabilitation Center.
Born April 8, 1932, in Gillespie, IL, he was the son of Roy and Regina (Finnegan) Drury. He served in the U.S. Air Force during the Vietnam War and retired as Lieutenant Colonel of the Air Force after 25 years of service. He was a member of St. Ambrose Catholic Church in Godfrey. On March 30, 1956, he married Lorraine DeHann. She preceded him in death on April 5, 2004. He then married the former Frances A. (Lonzerotti) Pierantoni on September 4, 2006, in Houston, TX. She survives.
Also surviving are his children, Richard M. Drury (Doylene) of Swansea, IL, Cynthia J. Mikulik (Kevin) of Wall, TX, Brian L. Drury (Gloria) of Seabrook, TX, Robert C. Drury (Monica) of San Antonio, TX, and Daniel A. Drury (Melissa) of Abilene, TX, 11 grandchildren, and numerous great-grandchildren and his brother, Leroy Drury of Houston, TX. He is also survived by Fran's children, Susan Breheny (Kevin) of Forsyth, IL, Karen Moore (Brian) of Godfrey, and Michael Pierantoni (Michelle) of Decatur, IL, 10 grandchildren, and 11 great-grandchildren.
Along with his parents and first wife, he was preceded in death by a granddaughter, Kelly Burkhart.
A memorial Mass will be held at 10:00 a.m. Saturday, November 27, 2021, at St Ambrose Catholic Church in Godfrey. Father Steven Janoski will officiate. Private burial will be at Holy Cross Cemetery in Gillespie, IL. Memorials may be made to St. Ambrose Catholic Church or St. Jude Children's Research Hospital. Gent Funeral Home in Alton is in charge of arrangements. Online guestbook and information may be found at www.gentfuneralhome.com
Obit Provided By:
Gent Funeral Home