Richard H. Young
Fosterburg | Thursday, January 14 2016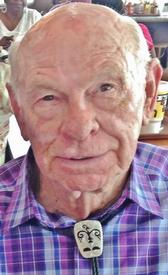 Richard H. Young, 81, passed away at 10:16 a.m. Thursday, January 14, 2016 at Alton Memorial Hospital.
Born Aug. 2, 1934 in Greenfield, Ill., he was a son of Richard W. and Helen L. (Barnett) Young.
The U.S. Army veteran worked as a bricklayer for Laclede Steel in Alton. He also farmed several acres in Fosterburg and sharecropped with other landowners. He was a member of First Southern Baptist Church of Forest Homes for well over 20 years, serving as trustee and deacon for most of those years. He loved to bake cakes and pies and fry fish, taking them to people who were sick or homebound.
He married Dorothy M. "Dot" (Williamson) Young March 4, 1955 in East Alton. She passed away March 7, 2013. He and Carol (King) Young were married July 19, 2014 in Cottage Hills. She survives.
Also surviving are his sister, Sharon (Michael) Greenwell of Alton; numerous nieces and nephews; stepdaughter, Carla Link-Witschie of Cottage Hills; and stepson Rick Link of Moro. Although Dick never had children, he was a loving father and mentor to many who will dearly miss him.
He was preceded in death by his parents and three brothers, Robert Curtis, Maurice Leroy, and Leonard Eugene Young.
Visitation will be Monday, Jan. 18 at First Southern Baptist Church of Forest Homes, 4th and Stanley Road in Cottage Hills from 10 a.m. until services begin at 12 noon. Pastor Dan Penrod will officiate.
Burial will follow at Rose Lawn Memory Gardens in Bethalto, with full military honors. The Patriot Guard will also honor him.
Memorials may be made to his church, First Southern Baptist Church of Forest Homes.
Family floral arrangements are entrusted to Dick's Flowers.
Professional services entrusted to Paynic Home for Funerals, with online guestbook and information at www.paynicfh.com
Gov Labor Board
Obit Provided By:
Paynic Home for Funerals