Richard Deck
Alton | Friday, August 11 2023 |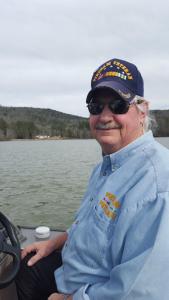 Richard (Rick) Paul Deck, age 75, of Grant, AL, formerly of Alton, IL, passed away on Friday, August 11, 2023.
Rick is survived by his wife of 53 years, Susie (nee Gray), whom he lovingly nicknamed "Danny"; daughter, Dawn Bunting (Radford); daughter-in-law, Sherri Deck; grandchildren: Blake Deck, Madison McCullough (Baily), and Caroline Bunting (Hayley); great grandsons: Lucas McCullough and Cameron McCullough; brothers: Arthur Deck (Barbara) and Howard Deck; sisters: Paula Walkington (Dane), Marianne Bone (David), and Barbara Hutslar (Terry); sister-in-law, Cristy Hopkins; brothers-in-law: John Gray (Joyce), James Gray (Pam), Ed Gray (Debbie), Mark Gray (Denise), and Mike Gray (Chris); and many, many nieces and nephews. He was predeceased by his son, Chon Deck; Father, Richard Eugene Deck; Mother, Geraldine Mary Deck; brother, Gary Deck; sister, Joyce Baker; and sister-in-law, Polly Dickerson.
Rick graduated from Alton High School and immediately enlisted in the Army; from there he served in the 173rd Airborne Brigade in Vietnam. Not long after he returned from Vietnam, he began working for Amoco Oil (BP) as a heavy equipment operator until he retired in 2007.
After retirement, Rick and Susie moved to Tennessee and then to Alabama in search of the best bass fishing spots. Rick loved to fish! He loved his boat and all of his rods and reels. But, most of all, he loved sharing his favorite pastime with and making tackle boxes for his grandchildren, family, and friends.
Rick wore many titles: husband, Dad, brother, friend, and perhaps his most favorite title, Pa. His grandkids always brought a smile to his face and there was nothing that he wouldn't do for them. His great grandbabies brought him so much joy that he didn't even mind his naps being interrupted if it meant he could see those babies!
Aside from fishing and his grandkids, Rick had a passion for veterans and the military community. From the annual Vietnam Veterans gathering in Kokomo, IN, to traipsing around Marine Corps bases with his son-in-law, to the random strangers he met along the way, he always found a special bond with his fellow veterans.
He was known for his catch phrases: "Praise the Lord" and "my nerves are shot!" and he could always be counted on for belting out a fun jingle or coming up with a clever and lasting nickname for those he loved.
A funeral mass will be held on Saturday, August 26, 2023 at 10:00am at St. Mary's Catholic Church, 519 E. 4th St, Alton, Illinois. Immediately following, the family will host a luncheon and celebration of life at The Alton-Wood River Sportsmen's Club at 3109 Godfrey Rd, Godfrey, Illinois.
In lieu of flowers, donations may be made to the Wounded Warrior Project in remembrance of Rick.