Ray Luken
Godfrey | Monday, December 12 2022 |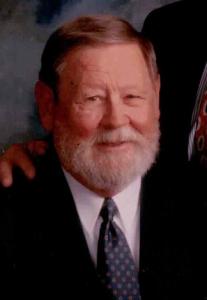 Ray Luken, after living a full and rich life for 96 years, died Monday, December 12, 2022, at his home in Godfrey with his wife Jan at his side.
Ray was the third son of William and Lucy Luken born on a farm outside of Gillespie in 1926. Ray and his mother moved from the farm to Gillespie, then Alton, after the death of Ray's father. Immediately after graduating from Alton High School, he enlisted in the Navy and served in the Pacific Theater on a destroyer escort until the end of WWII. Returning home after the war and thanks to the GI Bill, Ray attended the University of Illinois, majoring in marketing. He was a member of the Delta Chi fraternity. While attending there, he met his first wife, Marjorie Harrison of Paris, IL. They were married for over 50 years until her death in 2001.
After college, he returned to Alton where he worked for his brother, Ralph Luken at Luken Pontiac (now Quality Pontiac) and Luken Insurance. Ray eventually bought the insurance business from his brother. Luken Insurance became the Ray Luken Agency. After many years in the insurance business, he turned the business over to his son, Jeff.
In 2003, Ray married Janet (Barnett) Skinner of Godfrey and she survives.
Those that knew Ray, knew he was an avid fisherman who enjoyed many exceptional fishing expeditions until health issues at 93 curtailed his fishing trips. He also enjoyed hunting, traveling, cooking, and reading, and was always learning something new. A lifelong Lutheran, Ray was a long-time member of Trinity Lutheran Church, Alton, then Faith Lutheran Church in Godfrey. He also was an honorary member of the Alton Motorboat Club, and many years at the Alton-Wood River Sportsmen's Club.
Ray is survived by a daughter, Gail Bidle (Dean) of Knoxville, TN, and a son, Jeff Luken (Carla) of Chautauqua. Also surviving are Janet's children, Keith Skinner, Charlotte, NC, David Skinner, Merritt Island, FL, Teresa Eagan, Godfrey, Barbara Podany, Sullivan, MO, Michael Skinner (Beth Sorrentino) Waynesville, NC and Geoffrey Skinner (Jill) of Cobden, IL. Also surviving are grandchildren, J.B. Luken (Angela), Brentwood, MO, and Lucy Dehner (Jameson) Godfrey, IL, Step-grandchildren, Mark Eagen Jr. (Sarah), Godfrey, IL, Amanda Boston (Dayne), Alton, IL and Jennifer Eagan (Matt Barnes), Lake St. Louis, MO. He has been enjoying the great-grandchildren, Virginia Luken, Harrison, and Hazel Dehner, and step-great-grandchildren, Emmy Lou Eagan, Kendrick Boston, Logan, and Jack Barnes. A niece, Barbara Luken Hinson of Godfrey, and two nephews, Robert Luken of Highland, IL, and Ralph "Skip" Luken (Jacqueline) of Belfast, ME. He was preceded in death by his parents, brother, Ralph Luken of Alton, and Robert Luken who died during WWII which inspired his enlisting in the Navy. Truly a member of the Greatest Generation, he will be missed by family and friends.
Visitation will be from 4:00-8:00 p.m. Friday, December 16, 2022, at Gent Funeral Home and will continue from 9:00 a.m. until the time of the funeral service at 11:00 a.m. Saturday, December 17, 2022. Reverend Jerry MeCaskey will officiate. In lieu of flowers, memorials may be made to Faith Lutheran Church, Alton Food Pantry, or a charity of choice.
Online guestbook and information may be found at www.gentfuneralhome.com.
Obit Provided By:
Gent Funeral Home