Ramona Boehler
Naperville, IL | Monday, June 5 2023 |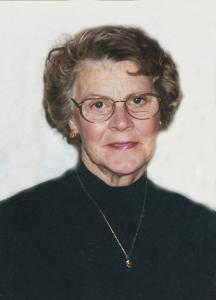 Ramona Jane Boehler, 93, formerly of Jerseyville, passed away at 10:08 p.m., Monday, June 5, 2023, at The Springs at Monarch Landing in Naperville.
She was born on January 13, 1930, in Jerseyville, one of two daughters born to the late Bernard J. "Ben" and Carrie Pearl (Crowder) Kallal.
She grew up on the family farm in Jerseyville and was a graduate of Jersey Community High School. She went on to obtain her Bachelor's Degree from St. Theresa's College in Winona, Minnesota, where she met the love of her life, Robert A. Boehler, who was attending at nearby St. Mary's College.
Bob and Ramona were married at Holy Ghost Catholic Church in Jerseyville on July 14, 1951, and settled in the Chicago area, where they raised their family.
Ramona was a working mom from her earliest days; often scheduling weekend shifts at the hospital so that Bob could be home to watch the children. Both parents worked hard to ensure that their children had opportunities for a better life.
In 1987, Bob brought Ramona back to her beloved farm, where they settled into a well-earned retirement; Ramona took pride in keeping her Centennial farm well-manicured and was happiest there. She was active with the Jersey County Historical Society and was a firm supporter of farm and family values. A lifelong member of Holy Ghost and St. Mary's Church, Ramona was strong in her Catholic faith.
She most enjoyed having her children visit the farm, especially when they brought their families to fish in the pond, help weed her gardens, or sit with her on the back porch to watch the corn grow. Thanksgiving was a special time to gather with family at the farm, and Ramona particularly enjoyed sharing the house with her large and growing family.
Ramona was a hardworking woman with a "no nonsense" personality, who was steeped in the traditions of farm life. She was loving and caring in all that she did, had a soft spot for the farm kittens (tomcats, not so much), was feared by her sons-in-law, doted on her children, and swarmed by her grandchildren a family get-togethers. She will be missed by them all, so very much.
Surviving are four children, Kathleen Boehler of Plano, Illinois, Mary (Jim) Cresman of Fruita, Colorado, Patricia (Matthew) Valle of Whitsett, North Carolina, and Carolyn Jones of Loves Park; fifteen grandchildren; fourteen great-grandchildren; as well as her beloved nephew, Bernie (Sarah) Darr.
In addition to her parents and her husband, she was preceded in death by a son, Robert S. Boehler, and a sister, Virginia Darr.
Visitation will be held from 2 p.m. until the time of Funeral Mass at 3 p.m., Monday, June 12, 2023, at St. Mary's Catholic Church in Fieldon.
Burial will follow at St. Mary's Cemetery.
In lieu of flowers or plants, memorials may be given to Jersey County Historical Society, in care of Crawford Funeral Home, 1308 State Highway 109, Jerseyville, IL 62052, who has been entrusted with arrangements.
Memories may be shared with the family by visiting www.crawfordfunerals.com
Obit Provided By:
Crawford Funeral Home