Ralph Rowden
Godfrey |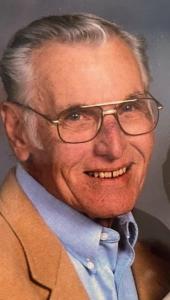 Ralph Gerald Rowden, 88, died at 9:52 p.m. Monday, November 13, 2023 at Alton Memorial Hospital. Born September 3, 1935 in Alton, he was the son of Frank and Dorothy Belle (Bryant) Rowden.
Ralph worked his entire professional career alongside his father as co-owners of J. Frank Rowden and Son Excavating, Godfrey, Illinois. His backhoe driving skills were the pride of his professional life and the talk of countless tall tales. Manya a night after dinner, the family was treated to a drive-by of his current job site, maybe a basement he was digging or sewer line under excavating. According to him, it wasn't over until the "last big job was complete," and he had many big jobs in his lifetime. In his long-retired life, he cared for his beautiful 80-acre farm like it was a private park, loving nothing more than mowing acres of hillsides, cutting thousands of cords of wood, and caring for his farm animals. He was an avid outdoorsman, and his three daughters learned their love of the outdoors through him.
Ralph and his high school sweetheart, Sharon Brady made a dashing couple and were married on April 21, 1957 at St. Patrick's Church in Alton. Their family would soon be graced with three daughters, and he loved nothing more than coming home from a hard day's work to be greeted by his girls at the back door. He and Sharon were married 63 years when she died on September 30, 2020.
Ralph was a longstanding member of Local 520 Operating Engineers and a lifetime member of the Alton Wood River Sportsman's Club.
Surviving are three daughters, Ramona (Dr. Guillermo) Rodriguez of Belleville, Deborah Rowden of Godfrey, and Jennifer (Pat) Schwarte of Alton, five grandchildren, Monica (Mark) Brackman of Belleville, Phillip (Cami) Rodriguez of Carmel, Indiana, Joshua (Amy) Holden of Austin, TX, Justin (Jodie) Holden of Austin, TX, and Grace Schwarte of Alton, and six great grandchildren, Noelle, Dennis, Mather, Margaret, Mabel, and Jude. Visitation will be from 11:00 a.m. until time of funeral service at 1:00 p.m. Friday, November 24, 2023 at Gent Funeral Home in Alton. Deacon Bill Kessler will officiate. Burial will be at Valhalla Memorial Park in Godfrey. In lieu of flowers, donations can be made to St. Ambrose Catholic Church, Godfrey, IL. Online guestbook and information may be found at www.gentfuneralhome.com.
Obit Provided By:
Gent Funeral Home