Ralph Jr.
Alton | Sunday, February 12 2023 |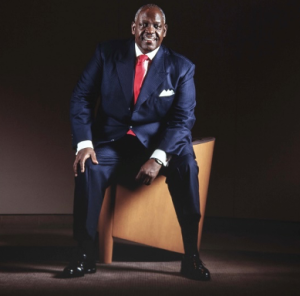 Ralph Dickerson, Jr. passed away peacefully on Sunday, February 12, 2023 at Pennsylvania Hospital in Philadelphia, PA. He was born in Alton, Illinois to Muriel L. (Cannon) and Ralph Dickerson, Sr. on May 25, 1947.
Ralph was a nationally recognized nonprofit leader, having held executive positions in the United Ways of Madison, WI, Cleveland, OH, and in 1984 becoming president of the United Way of Pittsburgh, and in 1988, being appointed the president of the United Way of New York City, a position he held until his retirement in 2004. Over his career, Ralph led fundraising campaigns that raised over $12 billion used to improve the lives of the poor and disenfranchised. Helping underserved communities was Ralph's passion. After the devastating terrorist attacks in New York City on September 11, 2001, Ralph co-created the now-famous September 11th Fund used to help victims, families, and communities affected by the devastating attacks.
In recognition of his outstanding leadership and contributions to the nonprofit sector, Ralph received many honorary degrees and awards including the New York Urban Coalition's GorgeousMosaic Award for his contributions to racial and ethnic harmony; the Pius XII Foundation's prestigious Medal of Life award, and the New York Urban League named him the recipient of the Frederick Douglas Award, its highest honor, for outstanding contributions to the cause of equal opportunity.
In addition to his work in philanthropy, Ralph served on numerous corporate and nonprofit boards including as chairman of the board of the Faith Center for Community Development, and the board of visitors of the New York City Police Department, among others.
After retiring from the United way, Ralph reinvented his life. He founded Highview Partners, a successful strategic advisory and private equity firm. His real passion for raising capital for the philanthropic community remained ever present, and he continued to raise millions of dollars for colleges, universities, real estate development firms and small businesses.
Ralph experienced joy by spending time with his family and friends. Until his death, Ralph remained an active member of Alpha Phi Alpha Fraternity, Inc., Sigma Pi Phi Fraternity, Inc., The National Association of Guardsmen, The Reveille Club and many other civic and social organizations. Additionally, Ralph remained active in his home church, Abyssinian Baptist Church in Harlem, New York City, where his godson currently is preaching.
Ralph was preceded in death by his parents and lovely daughter, Marla Rene. His memory will be cherished by his beloved life partner, Lisa Crutchfield, his son Ralph III (Daphne), four grandchildren Cameron, Garrett, Lauren and Bryce, and his brother George. Services for Ralph were held at Abyssinian Baptist Church on Friday, February 24, 2023. Tributes and memories can be posted to terryfuneralhome.com/obituaries/Ralph-Dickerson-Jr.