Rachel Pereira
Edwardsville | Thursday, May 27 2021 |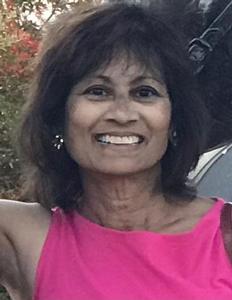 Rachel Pereira of Edwardsville passed the morning of May 27, 2021, at the age of 66, surrounded by love and holding her husband's hand after a long battle with Lung Cancer. Rachel graduated from Linton High School in Schenectady, NY. She attended Southern Illinois University at Edwardsville where she achieved a Bachelor of Science in Management Information Systems and a Bachelor of Science Business Administration in Organizational Behavior. She additionally received her Six Sigma Green Belt Certification later on while working at Wells Fargo. Rachel was Vice President in Strategy and Integration in Conduct Management at Wells Fargo Advisors in St. Louis, MO. She worked there for 21 years, starting when the branch was known as A.G. Edwards.
Rachel was born in Zanzibar, Tanzania, where she lived for 11 years before moving to Goa, India, until 15 years old when she moved to Schenectady. She was a fitness fanatic frequently found on the MCT trails with a big smile on her face and a dog by her side. Caring for animals was incredibly important to her, owning many cats and dogs throughout her life. Rachel was a dedicated member of the St. Boniface Parish and often volunteered at school events while raising her daughters. She was an avid traveler and enjoyed many trips around the world with her family. Her compassion and joy were a beacon of light to all those in her life. Rachel was a wonderful mother, wife, grandmother, aunt, and friend. All will remember her for her great smile and kind demeanor.
She was preceded in death by her parents (Antonio and Eulalia Pereira), her sister (Bella Halford), and her niece (Kim Sebring). She is survived by her husband (Gary Zimmerman of St. Louis), two daughters (Adrienne Zimmerman of Edwardsville and Sabrina Zimmerman of Edwardsville), six siblings (Bruno Pereira, Edel Groski, Mildred Treis, Grig Pereira, Meg Meiklejohn, and Esther Pereira), and four grandchildren (Kylie Danielson, Karli Danielson, Khloe Danielson, and Karrah Bode). The family wishes to thank the entire medical team at BJC's Siteman Cancer Center, led by Dr. Govindan and the staff at Evelyn's House Hospice Facility, for the thoughtful and compassionate care of Rachel in her final years and days. Visitation services will take place at Saksa Funeral Home from 5:00 PM to 8:00 PM on Monday, June 7. Funeral services will be held at St. Boniface Catholic Church at 10:30 AM on Tuesday, June 8, with Fr. Jeffrey Goeckner officiating. Memorials may be sent to St. Boniface Catholic Church or the Metro East Humane Society.
Obit Provided By:
Saksa Mateer Funeral Home