Philip Leininger
Wood River | Saturday, November 14 2015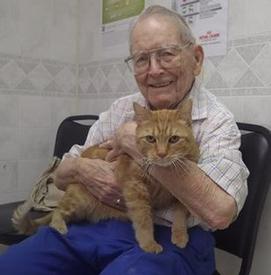 Philip J. Leininger, 94, passed away peacefully on Saturday, November 14, 2015, at St. Anthony's Hospital in Alton.
Phil was born in Fort Wayne, Indiana on January 9, 1921, the son of George and Lana Jones Leininger. He married Joetta Hubbs on April 8, 1944 at 1st Presbyterian Church of Wood River. She preceded him in death on October 4, 1972. He later married Betty "Jean" Arnold Bowser on February 9, 1974 at 1st Presbyterian Church of Wood River. She preceded him in death on August 22, 2012.
Phil lived in Columbia City, Indiana until attending college at Purdue University where he graduated with a Bachelor of Science degree in Chemical Engineering in 1942. He worked at Shell Oil Company in various positions from January 8, 1943 until his retirement on March 1, 1981. After retiring he worked for H&R Block for several years. He also enjoyed working as a volunteer for AARP, TCE and VITA in their various programs assisting seniors and low-income families.
He was fortunate throughout his life to be able to travel the world, starting when he was 16 on a bicycle trip through Europe. He particularly enjoyed listening to classical music and attending theater productions and symphonies. His family will remember his love of reading and working his daily crossword puzzles. He was an avid golfer well into his 80's.
He was a member of 1st Presbyterian Church of Wood River/The United Presbyterian Church for over 60 years where he served as a Sunday school teacher, deacon, elder and long-time choir member.
Phil is survived by his two children from his marriage to Joetta: Maurlana "Maury" Reynolds and Jon (Georgia) Leininger. Phil gained three more children when he married Jean: Steve (Jeannie) Bowser, Susan "Susie" (Maurice) Musgrave and Bill Bowser. He was blessed to have nine grandchildren: Jolana (Tim) Church, Daniel Leininger, Andrew Leininger, Barbara Bowser, Jacob Musgrave, James (Leslie) Musgrave, Robert Musgrave, Crystal (Brett) Carroll, Elizabeth Cole and seven great-grandchildren: Kherington Church, Kamden Church, Levi Musgrave, Brandon Carroll, Ava Carroll, Tyler Garner and Brianna Cole. A granddaughter, Holly Musgrave, preceded him in death.
Visitation will be held from 4 p.m. to 8 p.m. on Thursday, November 19, at The United Presbyterian Church on Rock Hill Road in Wood River. Visitation will also be held from 9 a.m. until time of services at 10 a.m. at The United Presbyterian Church on Friday, November 20. The Reverend Pam Laing will officiate. Burial will follow at Woodland Hill Cemetery in Wood River.
Memorials may be directed to The United Presbyterian Church or a charity of one's choice.
Phil loved life, family members, many friends and his faithful companion, his cat Copper. Phil was always there to brighten the lives of others. He will be greatly missed.
Obit Provided By:
Paynic Home for Funerals