Peggy Williams
Alton | Saturday, December 4 2021 |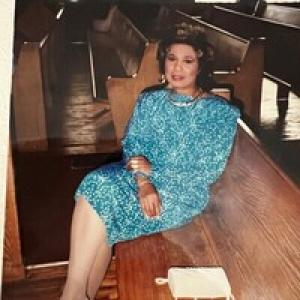 Peggy Williams was born on April 23, 1943, in St. Louis, MO to the late Johnny Chambliss and Linnie Bell Ross (Bearden). Peggy was the mother of six children: Marnett, Tiny, Ken, Lynn, Grailon, and Red.
Peggy got her education from the Catholic School System in Chicago, IL. She also attended Lovejoy IL school systems. Peggy attended Lewis and Clark Community College in Godfrey, IL. She was a member of the Elks Paradise Temple- chaplains under Jean Miller and Betty Taylor. In her early teen years, Peggy became a member of Tabernacle Baptist Church with Reverend John Dobbins in Lovejoy, IL. Peggy wanted her children under the leadership of the late Reverend Henry Connors in Alton, which she always called home. She later accepted Christ at Morning Star Missionary Baptist Church in Alton, IL with Pastor Stanley Henderson.
Peggy was employed by Olin Corporation in East Alton, IL for 31 years. She retired as a Rockwell Tester on September 1st,2005. Peggy worked diligently in dietary for four years for Blue Fountain Manor, she also worked at Alton Memorial Hospital in dietary.
Peggy was a beautiful, loving, giving passionate woman with everything that she did. She lit up a room with her style and beautiful smile. Her voice was so angelic. Peggy was skilled in many areas including interior decorating. Her closet was to die for. Her house was "Liberace Crystals" and all. Man have you had her neckbones, cabbage, and greens? That woman could cook! Peggy loved a nice ride. With her extra energy, she would dance all night long. She loved the blues and Aretha Franklin.
Departing this earth on Saturday, December 4, 2021, she is survived by two children: Linnie Williams Garrett of Atlanta, GA, Bryan Michael Williams(Travon) of Venice, IL, her two brothers: Arlan Chambliss of Chicago, IL, Versay Ross of St. Louis, MO, her long-time lover and friend Oscar Hampton, grandchildren: Lonny and Crystal Williams, Taneish Williams, Quincy Williams, Alexandra Garrett, Darian Garrett, Jamal Macintosh, Bryan Williams Jr., Tari Baker, Grailon Williams Jr., Terry Williams, bonus sister Joyce Elliott and Penny Perkins, the many lifelong friends of Sullivan Drive, extended family The Elliot- Lacey family, James Kenny Williams Sr, Mark and Tracy Mike and a host of great-grandchildren, nieces, nephews, cousins, special friends, and many more loved ones.
Peggy is preceded in death by her grandparents: Henrietta Davis (Chambliss), Henry and Jettoria Ross, her parents: Johnny Chambliss and Linnie Bell Ross (Bearden), her aunts: Nettie York (Julius), Minnie Reynolds (Chico), and Lecenia Harris, her uncles: Henry Ross Jr. and Bob Harris, a special cousin: Velma Harris, her daughters: Marnetta Louise Williams and Jamescina "Tuff Tiny "Williams, her sons: James Kenneth Williams Jr, and Grailon Leon Williams Sr., her granddaughter: Kenya Shanette Parrish and bonus sisters: Rosie "Honey "Loggins, and Jesse Pearl and bonus brother Rayford Elliott.
Obit Provided By:
Harrison Funeral Chapel