Peggy Greene
Granite City | Sunday, June 5 2022 |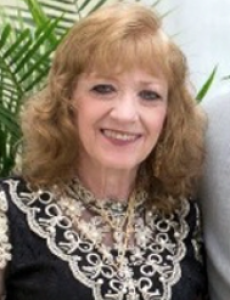 Peggy Sue Greene, 64, of Granite City, Illinois passed away at 9:40 p.m. on Sunday, June 5, 2022, at Barnes Hospital in St. Louis, Missouri.
She was born March 22, 1958, in St. Louis, Missouri, a daughter of the late Jerry D. and Blanche Jane (odle) Harrington Sr.
She married Daniel D. "Danny" Greene on October 25, 1988, in St. Louis, Missouri and he survives. She retired from the Children's Home and Aid Society in Granite City after 12 years of dedicated service as a case worker. She had also worked with several departments at St. Elizabeth Hospital in Granite City and had managed a fabric store in Granite City for several years. Peggy was a member of the Croatian Fraternal Union of America and the Granite City Eagles aerie #1126.
She enjoyed her years of serving as a Cub Scout leader and being a dedicated hockey mom. She enjoyed camping with her family and friends and cherished her camper and pink golf cart. She was an avid and very talented seamstress and made extravagant Halloween costumes throughout the years for her children and even outfitted many animals on occasion. She had a love for all animals and will be remembered for the love and special times shared with her family and friends.
In addition to her beloved husband, she is survived by a daughter, Nicole Greene of Belleville; two sons and a daughter-in-law, Kenny Knott of Granite City and Daniel and Candice Greene of Granite City; two granddaughters, Alexandria Mayes and Sophia Greene; three great-grandsons, Jasiah Dunn, Amari Dunn, and Arian Kelly; a sister and brother-in-law, Melody and Terry Angle of Troy; a brother and sister-in-law, Jerry and Sherry Harrington Jr. of Granite City; a brother and brother-in-law, Steve Harrington and Tom Geer of Florida; two brothers-in-law and a sister-in-law, John and Diane Greene of Granite City and Joe Greene of Granite City; two sisters-in-law and a brother-in-law, Maggie and Fr. John Zabinko of Granite City and Mary Wierciszewski of Belleville; her cherished dog, Laci; many nieces; nephews; other extended family and friends.
In addition to her parents, she was preceded in death by three brothers-in-law, Ronald Aiken, Paul Greene, and Stanley Wierciszewski.
In celebration of her life, a memorial visitation will be at Irwin Chapel, 3960 Maryville Road in Granite City on Friday, June 10, 2022, from 4:00 p.m. until the time of the funeral service at 7:30 p.m. with Father John Zabinko officiating.
Memorials may be made to the Myasthenia Gravis Foundation, 290 Turnpike Road, Suite 5-315, Westborough, MA 01581 www.myasthenia.org, or to the family and may be accepted at the funeral home. www.irwinchapel.com.
Obit Provided By:
Irwin Chapel Funeral Home