Pauline Bell
Highland | Monday, June 26 2023 |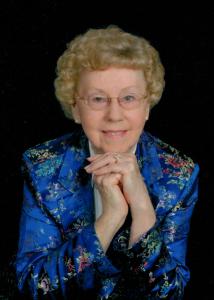 Pauline F. Bell, age 97, Highland, IL, died Monday, June 26, 2023. She was born September 20, 1925, in Oakhill, MO.
She was a member of First United Methodist Church, Altamont, IL; former member United Methodist Church, Elkhart, IL; active member of the Highland Historical Society and a Farm Bureau member.
Pauline was born in Crawford County MO, graduated from Bourbon, MO, High School.After marriage they moved from Bourbon, MO. to Logan County IL. They settled near Elkhart, IL, where they raised their three sons. They lived there on the Lawrence Estate from 1946 to 1975 when they moved to Altamont, IL. In 2013 Pauline moved to Highland, IL. to be near her sister, Freda Fuchs, and her niece, Sharon Hargus.Pauline worked at numerous jobs during her life. She worked at the Garment Factory and Montgomery Ward in Lincoln, IL. She also managed an apartment complex in Altamont. She also worked at the Altamont Community Schools for several years where she retired in 1990, but continued on as a substitute until 2004.Pauline loved animals of all kind and cats in particular. She feed the birds year around like they were part of her family. Cooking was her passion and she also enjoyed gardening, crocheting, dancing, playing cards and collecting teddy bears, which she displayed in her home.
Survivors include: Sons-David W. (Janet) Bell, Scottsdale, AZ; Ronald E. (Sheryl) Bell, Cave Creek, AZ; Dennis J. (Jo Ellen) Bell, Davenport, IA; Five Grandchildren; One Step Grandchild; and Six Great Grandchildren.
She was preceded in death by: Parents Ollie and Nellie Souders; Former Husband George W. Bell; Sisters-Freda Fuchs and Gertrude Briggs; Brothers-Eugene Souders and Leo Souders.
Visitation will be held from 4:00 PM to 7:00 PM on Friday, June 30, 2023, at Spengel-Boulanger Funeral Home in Highland, IL. Graveside Service will be at 10:30 AM on Saturday, July 1, 2023, at Elkhart Cemetery in Elkhart, IL.
Memorial contributions may be made to United Methodist Church, Elkhart, IL, or First United Methodist Church, Altamont, IL.
Obit Provided By:
Spengel-Boulanger Funeral Home