Paul Russell
Godfrey | Tuesday, September 28 2021 |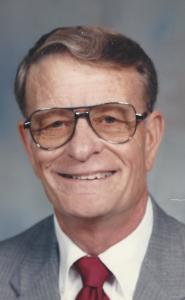 Paul Russell Santy, 93, formerly of Rosewood Heights, passed away at 2:15 pm, Tuesday, September 28, 2021, at Alton Memorial Hospital.
Born August 4, 1928, in Rosiclare, IL, he was the son of Earl and Opal Pearl (Kimsey) Santy.
He married Donna Lou East on August 14, 1954, at the First Christian Church in West Frankfort, IL. They lived in Carterville before moving to the East Alton/Wood River area. Paul and Donna were married 65 years before her death on April 19, 2019.
Paul was a graduate of Rosiclare High School. He attended Michigan State University in East Lancing and Southern Illinois University-Carbondale, earning a Master's Degree in School Administration. He was inducted into Phi Delta Kappa, an honorary and professional fraternity in 1955 at SIU-C.
He was on staff at the U.S. Fleet Sonar School in Key West, FL for 2 years. He served on a Navy destroyer during the Korean War, providing fire support for the Army and giving support and supplies to guerrilla groups behind the lines, earning two Bronze Stars.
Paul taught at Roxana Jr and Sr. High schools for 4 years; and then, became principal at East Alton Junior High School District 13 or 28 years before retiring. He was a past-president of the Roxana Teacher's Association; served on the Board of Directors of Teachers Federal Credit Union; member of National Teachers Association, Illinois Teachers Association; Illinois Jr. High Principals Association; served on several committees of those organizations; served on a committee for selecting educational programs for KETC (Channel 9); was a fundraiser for the Boy Scout of America; and served on the City of Wood River Traffic Commission. Paul was a life member of the Alton VFW Post 1308 and East Alton American Legion Post 794 and of the First United Methodist Church in East Alton.
He is survived by two sons, Brent Spencer (Robbie) Santy of East Alton, Michael Scott (Cynthia) Santy of Madison, AL; five grandchildren, Kacey Lea Santy of St. Louis, Kaylea Nicole Santy of East Alton, Benjamin Michael Santy, Luke Henry Santy, and Brooke Elizabeth Santy all of Madison, AL; brother, Richard (Paula) Santy of Harrisburg; three nieces, Reta D. East of St. Petersburg, FL, Laura Shewmake of Gold Canyon, AZ, Jan (Jim) Kuppart of Harrisburg; and a great-niece, Stephanie Shewmake of Gold Canyon, AZ.
He was preceded in death by his parents; his wife, Donna, whom he cared for with love, dignity, and respect; son and daughter-in-law, Scott Russell and Cathy Santy in 1980; and his grandson, Joshua Scott Santy in November of 2008.
At his request, a private, family service will be held at Marks Mortuary in Wood River with burial following in Woodland Hill Cemetery.
Memorials are suggested to a charity of one's choice.
Obit Provided By:
Mark's Mortuary