Patsy Parker
St. Louis, MO | Monday, March 14 2022 |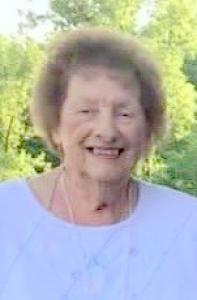 Patsy Jo (nee Finley) Parker,died peacefully on March 14, 2022, surrounded by family at Laclede Groves in St. Louis, Mo. She was 90 years old.

Pat, as she was affectionately known, was born in Kennett, Mo. on July 23, 1931, to Allie and Hazel (nee Light) Finley, completing their family as the youngest of 7 children. She was happily married to Charles Parker on June 23, 1956, at Church of Christ in Washington Park, Ill. Charlie and Patsy raised their family in Collinsville, Ill., and lived there many years before retiring to Piedmont, Mo., where they lived for 22 years before returning to Collinsville. Following Charlie's death in 2009, Patsy lived in Hilltop Manor in Eureka, Mo. until moving to assisted living at Lutheran Senior Services, where she resided until her passing.

Patsy was the baby of a large family and chose to live near her sisters, Inez ("Tommye) Vitale, Aileen Casey, Burleen Edwards, Fern Berry, and brother EJ Finley in Collinsville IL; brother Guy Finley remained in their hometown of Kennett, Mo. She and Charlie spent countless hours socializing with family and friends, with fond memories of many family outings at the St. Louis Zoo and Forest Park, St Louis Cardinal games, and many BBQs and family parties. Her siblings were her best friends, and "the aunties", as they were known in the family, talked every day. Friday mornings were reserved for them to meet up at the local beauty parlor and their families all knew that Friday mornings were off-limits for any other plans.

Patsy and Charlie always welcomed children, grandchildren, and friends to their homes in Collinsville and Piedmont, along with their large extended family including nieces and nephews. While living in Piedmont, they loved to fish Clearwater Lake on their pontoon boat and entertain anyone who might happen to stop by "for a visit". Many a delicious meal of barbecue and fried chicken was enjoyed on their patio, with a St Louis Cardinals game playing in the background. More often than not a few rounds of poker would end the evening. In her later years, Patsy enjoyed living close to her grandchildren and great-grandchildren and attending their baseball games, dance recitals, birthday celebrations, and more.

Patsy is survived by her children, Sherry (Rick) Weible of Labadie, Mo., and Terry (Vicki) Parker of Caseyville, Ill., her grandchildren Kristen (Kevin) Rogan of Wildwood, Mo., and Kyle (Tammy) Weible of Eureka, Mo., 8 great-grandchildren, special family friends Ross and Angie Kimbrell, and many nieces and nephews. She is preceded in death by her husband, Charlie, her four sisters and their husbands, two brothers and their wives. As the last surviving sibling of her large and beloved Finley family, it is truly the end of an era.

Patsy will be remembered for her fiery spirit, social nature, and a life well lived surrounded by family and laughter.

Services: Interment will be private at Jefferson Barracks National Cemetery. A Celebration of Patsy's Life will be held later this year. As a service of the SCHRADER Funeral Home and Crematory, friends may sign the family's online guestbook at Schrader.com.