Paster Hogg
Alton | Saturday, December 25 2021 |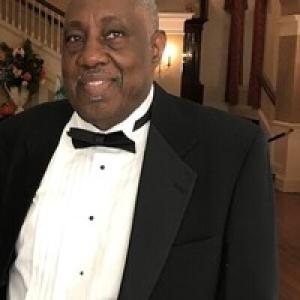 Paster Larry Eugene Hogg died on December 25, 2021.
Whereas, God, in His divine wisdom, has called unto eternal rest, from his labor, a saintly and wonderful husband of 47 years, Pastor Larry Eugene Hogg. First Lady Cheryl Moye Hogg, along with our six children, do humbly bow their entire spirits, souls and beings to the perfect will of God, in the entrance into the kingdom of God. His entrance has left our hearts shattered and in pain, but we know of a blessed assurance that he is where he longed and prepared to be for the past 47 years. Yes, heaven is a place for prepared people!!! St. John 14:3. He was prepared, praise God! Knowing that God is too wise to error and too just to make a mistake, we children join in saying, " Yes, Lord, your will be done in earth as it is in heaven"!
HIS CHILDHOOD
Pastor Larry Eugene Hogg, was born on June 8, 1944, in Richmond, Indiana, and named Larry Eugene VanMeter. His mother, the late Mrs. Ada Mae Hogg, gave him her married name and he became Larry Eugene Hogg. Pastor Hogg and his mother had an extremely close relationship that existed beyond words. She was his first heart and instilled in him a great love for family and people. He declared that the late Mr. William Pink Hogg, was an outstanding step-father to Pastor Hogg. His mother and father cultivated a gentleman in every aspect of the word. Pastor Hogg was the eldest of five children born to this union. Pastor Hogg was a great role-model and example for his siblings and peers. His childhood years were filled with many affectionate stories and laughter. Pastor Hogg possessed a "joy for life" and a great sense of humor. He could not have been reared in a better home than his parents provided. It was the Hogg Clan that believed in family, love, and hospitality. He spread this example to his friends and community. Pastor Hogg began his first ministry by visiting the elderly of his community and acquiring their wisdom.
HIS EDUCATION
His public school education began in the city of Richmond, Indiana. He was a 1963 graduate of Richmond High School. After graduating from high school, he enlisted and joined the United States Marine Corp. He was sent to Camp Lejeune, North Carolina in 1964 and served his country ranking as a sergeant with an honorable discharge in 1968 after receiving a purple heart. It was then that he decided to attend college. He was accepted into Indiana State University in Terre Haute, Indiana, where he majored in Electronics Manufacturing. He graduated with a B.S. degree in Electronics. While in college, he became a member of the Alpha Phi Alpha college fraternity. He later decided to pursue a Master's Degree in Counseling Education. He was gifted with the "gift of helps" and desired to work with young people. He received his Master's Degree in Counseling Education from the State University of New York at Brockport, Brockport, New York, on Sunday, May 19, 1974. He met Cheryl Moye in January 1974, became engaged in May 1974, and married in November 1974. Her father, the late Pastor Augustus Moye, Jr. married them at the Holy Temple Church of God in Christ, on Sunday, 24 November 1974, in Aliquippa, Pennsylvania. On the 25th of November, 1974, Larry and Cheryl happily moved as newlyweds to Edwardsville, Illinois.
Pastor Hogg came to Edwardsville with his new bride. They began to attend service at the Church of God in Christ Congregational, under the pastorage of Bishop Ray Lindsey. Pastor Hogg loved to hear the stories of how God moved amongst the Saints. He intently sought a "double-portion of God's anointing" that led to a manifestation of the Power of God that left him engrossed in the Spirit for three consecutive days. It was in this reformation that they both were filled with the Holy Ghost with the evidence of speaking in tongues as the Spirit gave utterance. They continued to serve this ministry for five years.
Pastor Hogg accepted his call to the ministry at Brown's Faith Temple COGIC, located in Alton, Illinois, under the exemplary leadership of Superintendent Cornelius B. Brown and Mother Bertha Mae Brown, on the 27th day of March, 1984. It was under that ministry where they learned the meaning of "fasting and praying"!!! Superintendent Brown was a man much like Pastor Hogg, a man with a meek and humble spirit. He kept them in revival and being revived. The revival was not one of a lot of dancing and singing, not to diminish that aspect, but one of a genuine relationship with God!!! They were commissioned to pray without ceasing and to live holy, unspotted from the world. This is what his wife's parents, the late Pastor Augustus and Mother Frances Stanback Moye, of Aliquippa, Pennsylvania, had taught her from a child. Pastor Hogg reveranced the stand in holiness that his "in-loves" represented. He loved her parents. Pastor Hogg loved people and had a deep compassion that never felt the need to demean anyone. He used the weapons of fasting and praying. He refused to compromise holiness for natural gain. God anointed Pastor Hogg's hands with "the gift of healing" and it was a blessing to the entire body of Christ. His unusual method of "turning" those that he prayed for around in a circle and the power of God slaying them in the Spirit was a divine witness to the way God used him. He made everyone feel as though they were special and listened intently while sharing God's wisdom and his faith that "God could do anything but fail."
Pastor Hogg also served the State of Eastern Missouri Jurisdiction under Bishop R.J. Ward. He served under Bishop Dwight McDaniels, at the San Francisco COGIC, where he became an ordained Elder. It was there where he met his assistant pastor, Elder John Bailiff, who has served Pastor Hogg and the Holy Temple ministry for nearly 20 years. He also served under Martin Paradise COGIC with Pastor Charles Williams, before the Lord called Pastor Hogg to pastor. This gentle giant didn't leave this earth without establishing the Holy Temple Lifeline Church of God in Christ in Edwardsville, Illinois.
Pastor Hogg was employed as an Upward Bound Science Awareness counselor for the Southern Illinois University Edwardsville, in East St. Louis, Illinois. After 32.4 years of service, he retired in December 2008, as a strong supporter of higher education. He received the Martin Luther King, Jr. Humanitarian Award for 2004, for positively touching the lives of over 800 young people. He is credited for helping more than 800 students go on to colleges and universities, as well as graduate programs, throughout the country during his tenure with Southern Illinois University.
Pastor Hogg is the epitome of a husband, father and grandfather. He loved his grandchildren. He would call to speak with even the youngest grandchild. His sole mission in life was to help others and it first began in his home. He raised his children to love God and love people. He could often be found sitting in a chair laughing and sharing the daily events with his children. Pastor Hogg has a unique relationship with each one of his children. He had an unconditional, genuine and intentional love that exuded from his eyes. The amount of time and energy he poured into rearing them is immeasurable.
Pastor Larry E. Hogg bore his cross and has gone home to be with his Lord and Savior. A place where he lived and longed to be. He has exchanged his cross for a crown. A man of extreme humility, wisdom and most of all love!!! He exemplified Christ in all that he said and in all that he did. He was one of the kindest men ever met. He was a Christ-like example to all!!! He never saw the sin of a man, but he saw their need. Pastor Hogg never hesitated to ask anyone, "Are you saved?" He was also a man of great faith. He believed in blessed oil, the prayer cloth and the power of prayer.
He leaves to follow him home, his devoted wife of 47 years, Lady Cheryl Janice Moye Hogg, his daughter, Mrs. Tawnya Cherice Martin (Herbert); Miss Jada Frances Hogg ,his "Stuff; his sons, Mr. Laurence Emerson Hogg (Janie); Mr. Aaron Philip Hogg (Jenna); Mr. Justin Matthew Hogg (Camilya); and Mr. Brandon Joseph Hogg. His grandchildren are Mr. Zabriawn Smith, Herbert Lee Martin III, Adara Martin, Linda Martin, Chrislyn Powers, Shiloah Hogg, Langston Hogg, Ava Hogg, Aaron James Hogg, Elijah Robinson, Laila Hogg, Olivia Hogg, Nakia and Jamie McCottrell. He was a family man who loved his wife, children and grandchildren. He has one surviving sister, to follow him home, Miss Nancy Jo Hogg, of Richmond, Indiana. He leaves to follow him home his sister and brother in-loves, Missionary Deborah Jones of Columbia, South Carolina; Superintendent Douglas Dwight Moye (Crystel) of Crete, Illinois; Missionary Duchess Moye Sherrod of Indianapolis, Indiana; Mother Arneatha Moye Durham of Virginia Beach, Virginia, Mr. Franklin Obadiah Moye of Columbia, South Carolina; Missionary Yvette Moye, of Chicago, Illinois and Pastor Basil Addison Moye (Marie) of Great Mills, Maryland. He leaves to follow him home , his church family at the Holy Temple Lifeline Ministries Church of God in Christ in Edwardsville, Illinois. He also leaves to cherish his memory and to follow him home a host of nieces, nephews, cousins and loyal high school friends, Mr. Gary Worthington of Cameron Park, California and Mrs. Jeri Shipp of Fishers, Indiana. He has been preceded in death by his first son, infant Daniel Rhett Hogg; his parents, Mr. and Mrs William Pink Hogg; his sister, Mrs. Emma "Chee Chee" Hampton; his brother, Mr. William Douglas Hogg and his brother Mr. Benny Shaw.
God has spoken, let the church say , "Amen!"
Visitation Wednesday, Jan. 5, 2022, from 4 pm to 6 pm with the Memorial Service to follow at 6 pm. Greater St. Mark Church of God In Christ, 4325 State St., East St. Louis.
Harrison Funeral Chapel is in charge of arrangements. Condolences may be given at
https://www.harrisonfuneralchapel.com/obituary/pastor-larry-hogg
Obit Provided By:
Harrison Funeral Chapel