Owretha "Rete" Jewel (Duff) Zimmerman
Grafton | Wednesday, December 30 2020 |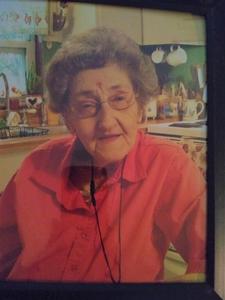 Owretha "Rete" Jewel (Duff) Zimmerman, 98, left her mortal body, peacefully, at home, surrounded by family on 12/30/20.
Born in Randolph County Arkansas to Wilbert & Lillian (Morris) Duff, she would go on to make her home in Grafton, IL. Married to W. Howard Zimmerman, they raised a family of 6: two sons and four daughters. She was devout in her faith and thought highly of her church family at Grafton First Baptist Church. Facing many hardships in life, she always had her family by her side. She lived her entire life in her own home all while never having a driver's license! The love and support from her family and friends allowed her to live life on her own terms, just how she wanted it: Just. So.
It is not hard to sit back and recall a memory from her cooking, to her gardening, or of her avid scorn of snakes – for those who knew her, there is an easily found, fond memory.
She was preceded in death by her loving husband (W. Howard Z.), her 2 brothers (Crestel and Darrell Duff), 2 sisters (Mary Ann Jobe and Inelda Lester), her two sons (Alan Z. and Robert Z.); one daughter (Susan Vitt); two granddaughters (Terri Farmer & Heather Wendle); a grandson (Rob Z.); and 3 angel grandbabies.
Surviving is her sister Zora Lee Young, 3 phenomenal daughters Karen (Randy dec.) Raub, Beth (Cris) Farmer, & Lisa (Tony) Grace; a son & 2 daughters by marriage (John Vitt (Susan), Renee Ressler (Robert) & Julie Mosby (Alan)), 15 grandkids; 16 great-grandkids, and 1 great-great-grandson.
A private graveside service will be Monday, January 4, 2021 at Scenic Hill Cemetery in Grafton, IL. Elias, Kallal and Schaaf Funeral Home in Godfrey is entrusted with professional services.
In lieu of flowers, please consider donating to the Salvation Army of Jersey County so that they may continue to support those in need.
Online condolences, guest book and funeral services can be viewed at www.eliaskallalandschaaf.com.
Obit Provided By:
Elias, Kallal & Schaaf Funeral Home