Norma Glazebrook
Alton | Monday, August 9 2021 |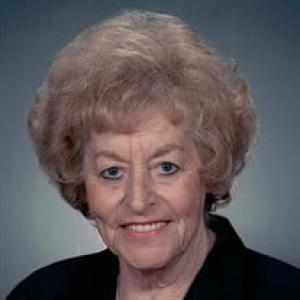 Norma Jean Glazebrook, 89, died at 12:44 a.m. Monday, August 9, 2021 at OSF St. Anthony's Healthcare Center. Born February 13, 1932 in Alton, she was the only child of Frank J. and Clara D. (Herman) Helwig.
On February 16, 1973 she married Robert Glazebrook in Las Vegas. He preceded her in death on November 20, 1995.
Surviving are two step children, Robert Earl Glazebrook Jr. (Donna) of Miami, FL, Richard Brian Glazebrook (Jana) of Mesa, AZ, three grandchildren, Gail Glazebrook Robles (Tony) of Miami, FL, Robert Earl Glazebrook III (Katharine) of Miami, FL, and Heidi Glazebrook Hickman (Kyle) of Des Moines, IA, and five great grandchildren, Robert Earl Glazebrook IV, twins Everett and Olive Hickman, Johnny Glazebrook and Antonio Robles.
Along with her parents and husband, she was preceded in death by a step son, Thomas Glazebrook.
Norma was a National Baton Twirling Champion and started the Piasa Indians Baton Twirling Drill Team in 1951, a group of baton-twirling, flag-bearing young girls that traveled the United States giving shows at state fairs, parades and competing in national competitions along the way. They even won the national title in 1964 at the New York State Fair. Norma worked for 21 years at the Telegraph here in Alton before retiring in 1973. She married Bob Glazebrook that same year and traveled the world with him till his sudden death in 1995. Mourning the loss of Bob, Norma threw herself into volunteer work. She joined Make-A-Wish Illinois in 1996 and helped fulfill nearly 300 wishes in her 25 years of service. She won the Volunteer of the Year Award in 1999 and 2000 and again in 2011. She received the Studs Terkel Humanities Service Award from the Illinois Humanities Council and was a finalist in the selection of Channel 5's Five Noteworthy Volunteers in the Metro St. Louis area. In 2000 she won the Pride Inc. Outstanding Citizen Award for her numerous acts of community service in the River Bend Area. In 2011 she was honored as one of the Alton YMCA's Women of Distinction. And in 2013, she was honored at Lockhaven Country Club with the Gordon F. Moore Service Above Self award by the Alton-Godfrey Rotary Club. She was also a member of the Evangelical United Church of Christ and P.E.O. Chapter IL.
Perhaps Norma's most lasting gift to the community though is the Robert E. Glazebrook Community Park. Over 90 acres of land she donated to the town of Godfrey in honor of her late husband. A place that Bob, her and their family would gather to fish, hunt and enjoy the outdoors now serves as a gathering spot for all of Godfrey and the neighboring towns to enjoy. Norma's kind, generous, spunky spirit is missed by everyone that knew her. We're comforted knowing she's been reunited with Bob, her parents and the many dogs she loved and cared for along the way.
Visitation will be from 4:00-8:00 p.m. Friday, August 13, 2021 at Gent Funeral Home in Alton. Funeral services will be at 10:00 a.m. Saturday, August 14, 2021 at Evangelical United Church of Christ in Godfrey. Reverend Jerry MeCaskey will officiate. Burial will be at Valhalla Memorial Park in Godfrey. In lieu of flowers, the family has asked for donations to be made to the Make-A-Wish Foundation in her name.
"You're put on this Earth, and if you leave it a better place, you have succeeded, no matter what you do." -Norma Jean Glazebrook.
Online guestbook and information may be found at www.gentfuneralhome.com
Obit Provided By:
Gent Funeral Home