Nell Volner
Alton | Monday, August 9 2021 |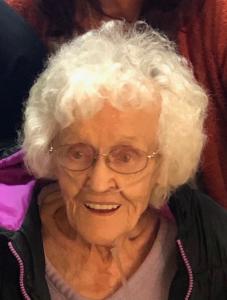 Nell Volner, of Alton, passed away Monday, August 9, 2021, of natural causes.
Born April 12, 1930, she was the daughter of the late Archie and Lala Walker. She married the late Roy Volner in 1948.
She is survived by one sister, Shirley Dooley, of Brighton, and four children, Connie (Chuck) Edmands, of Brevard, NC, Susie (Dennis) Swindell, of Sterling, CO, Becky (Geof) Colton, of Hallandale Beach, FL, and Greg (Margaret) Volner of Alton; grandchildren Robert (Mimi) Honke, Scott (Jackie) Honke, Bridget (Bill) Archer, Adam (Zoe) Moore, Hannah (Chris) Pohlman, Seth Karfeld, Alex (Sean) Dolan, and Sam (Katie) Volner, 11 great-grandchildren, and 6 great-great-grandchildren.
In addition to her parents, she was preceded in death by 3 sisters, Eva Hindmon, Norma Keene, Charlene Smith, and grandson Ryan Honke.
A celebration of her life will be held on October 9. During her life, she was a wonderful mother, grandmother, and sister, an amazing seamstress, and she was an avid NASCAR fan. You could often find her playing a game of cards or a board game with kids of all ages.
The family gratefully appreciates the love and care shown to her at Integrity of Alton, where she was fondly referred to as "Granny."
Memorials may be made to the Wounded Warrior Project in memory of Nell Volner.