Neal Gipson
Jerseyville | Saturday, September 2 2023 |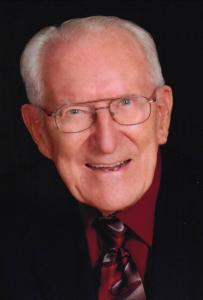 E. Neal Gipson, MD, 104, died at 4:59 a.m., Saturday, September 2, 2023 at his residence surrounded by loved ones.
He was born in Caldwell, Idaho on August 15, 1919, the second of four children born to Edgar Varney and Florence (Greer) Gipson.
He graduated from Twin Falls High School in Twin Falls, Idaho, and received his B.S. from Linfield University in McMinnville, Oregon. He then went on to earn his Masters Degree in Nuclear Science from Rochester University in Rochester, New York, and his Medical Degree from Temple University School of Medicine in Philadelphia, Pennsylvania.
He enlisted with the United States Navy in 1942, serving during World War II. He received his honorable discharge in 1946, transferring to the United States Air Force in 1950. In 1951, he was commissioned as a Medical Officer, and served honorably with the Air Force for 22 years before his discharge from Scott Air Force Base as a Colonel with the United States Air Force.
After retiring from the Air Force, Dr. Gipson practiced radiology in St. Louis, Missouri, and Canton, Ohio, before accepting a position in 1976 as the resident Radiologist with Jersey Community Hospital in Jerseyville. He initially began his work in the old hospital on Pine Street, and was instrumental in developing the radiology suite in the current location. He saw growth of the present radiology department from X-Ray diagnostic capability to a complete imaging diagnostic facility, which would include nuclear medicine, ultrasound, CT, and prior to his departure, MRI. He proudly served his community for over 17 years before his retirement in February, 1993.
During his lifetime he was involved in many civic organizations, including Rotary Club, board member of the Jersey County Health Department, chairman of the Health Board's Professional Advisory Committee, served on the Board and Advisory Council of one of Illinois's Area Agencies for 21 plus years, as well as being a dedicated member of the First Baptist Church in Jerseyville.
He married the former Margaret Florence Overdorf on December 31, 1943 in Bethlehem, Pennsylvania, and they shared nearly 46 years of marriage prior to her death on December 21, 1988. Together they were the parents of five children, Glenn Gipson of Magnolia, Texas, Joan Mavima of Hemet, California, Claudia Gipson of Douglassville, Pennsylvania, Eric (Shari) Gipson of St. Louis, Missouri and the late Janice Nicholson.
After the death of his first wife, he married Patricia Sue (Ballard) Crotchett on November 10, 1990 at the First Presbyterian Church in Jerseyville, and was blessed with two more children, Amy (Scott) Turman of Jerseyville and Michael (Stacey) Crotchett of Dow.
He is also survived by his grandchildren, Jillian Gipson, Garrett Gipson, Garikai Mavima, Florence Mavima, Erin Sieber, Timothy Sieber, Colleen Sieber, Dustin Pendergraft, April Pendergraft, Derek Gipson, Dale Miles, CJ Miles, Shelby Miles, Richard Crotchett, Ashely Crotchett, Blake Crotchett and Gage Crotchett; along with numerous great grandchildren.
In addition to his parents, first wife and daughter, he was preceded in death by a sister, Priscilla Gipson; and two brothers, Dr. Tracy Gipson and John "Jack" Gipson.
Visitation will be from 4 to 7 p.m. Friday, September 8, 2023 at Crawford Funeral Home in Jerseyville.
Funeral services will be conducted at 10 a.m. Saturday, September 9, 2023 at First Baptist Church in Jerseyville, with Rev. Brent Meyer officiating.
The funeral services will be livestreamed on the First Baptist Church Facebook page for those unable to attend.
Burial will be in the Kane Cemetery with Scott Air Force Base conducting military graveside rites.
Memorials may be given to the Jerseyville Public Library or Rainbow Acres in Camp Verde, Arizona.
Memories may be shared at www.crawfordfunerals.com.
Obit Provided By:
Crawford Funeral Home