Nancy Hamilton
Jerseyville |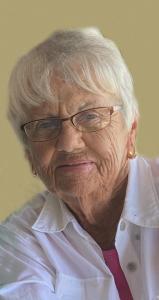 Nancy Ellen Hamilton, 92 passed away peacefully on Monday November 13, 2023 in Jerseyville. She was born May 15, 1931 in Pike County, IL to Neal and Margaret (Jackson) Henry. She married Charles Hamilton on June 14, 1953 in Modesto. They celebrated 70 years of marriage in June with all family and many, many friends attending their celebration.
Nancy grew up in Biggsville, IL and graduated from Western Illinois University with a degree in Home Economics Education. At Western, she met her husband to be. Nancy and Charlie moved to Jerseyville in 1954 to each begin teaching at the high school. She was proud of teaching Home Economics and then elementary Art in Jersey County Schools. She retired in 1987 with a goal to travel. And travel they did throughout the US and internationally, many times to Europe and the rest of the Americas. Most recently to Columbia in 2019. They also were blessed to spend many of their winters in Ft. Myers FL.
Nancy was a very accomplished seamstress. She made her wedding dress (during her senior year at WIU), numerous clothing items, and was always sewing something or working on some artsy project. After retirement she had a quilt in progress all the time. Recently, she gifted one of her quilts to each family member, including great grandchildren.
Nancy was an active member of the First Presbyterian Church and many other service and social clubs. In addition to traveling and sewing she spent many hours socializing with friends or playing cards. She loved bridge, pinochle, and BLITZ. She made welcoming and visiting all family a priority, and was always ready to babysit her grandchildren.
Nancy is survived by her husband, one brother Jackson Henry of California, children Dale (Amy) Hamilton of Sandwich, IL, David (Carrie) Hamilton of Jerseyville and Alice (Anthony) Lechiara of Wheaton, IL. Six grandchildren, Jodi (Scott) Burney, Neal (Nicole) Hamilton, Paul (Ashleigh) Hamilton, Jeff (Karen) Hamilton, Emily (Matt) Stoklosa, Grace (Kyle) Funke, and great grandchildren, Ava, Mason, Knox, Merrik, Charleigh, Nora and Miles. She is preceded by her parents, two brothers, one grand daughter Lauren 2009, and 3 great grandchildren Brock, Pax, Willa.
Services for Nancy Hamilton will be Thursday November 16 at the First Presbyterian Church in Jerseyville. Visitation will be at 1:00 with funeral service to follow at 3:00. There will also be a reception at the church following the ceremony. In lieu of flowers, memorials may be directed to the First Presbyterian Church of Jerseyville.
Crawford Funeral Home in Jerseyville has been entrusted with arrangements.
Memories may be shared with the family by visiting www.crawfordfunerals.com.
Obit Provided By:
Crawford Funeral Home