Nadine Rain
Godfrey | Wednesday, May 25 2022 |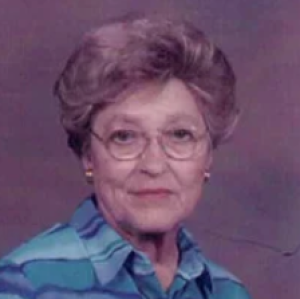 Nadine Elizabeth Rain, 97, died at 5:06 a.m. Wednesday, May 25, 2022, at Alton Memorial Hospital.
Born October 10, 1924, in East St. Louis, IL, she was the daughter of Edgar A. and Amy (Schumert) Hissrich.
She graduated from East St. Louis High School and entered Stephens College in Columbia, MO as a theatre major, studying under Maude Adams (Peter Pan) and playwright, William Inge. She became interested in the Stephens College Aviation Program and acquired her parents' permission to take the flight course. She graduated with an Associate in Arts degree and a Private Pilot's license in 1944. She did post-graduate work on a commercial aviation license at Stephens and returned to St. Louis, where she was employed by Trans World Airlines.
On February 9, 1946, she married William A. Rain of Alton. They were married 59 wonderful years before his death in 2005. He was the owner of Rain and Rain Grocery Store in North Alton. They had three children, William A. Rain Jr. "Bud" (Cheryl Gill Rain), Amy R. Monahan (Michael F. Monahan), and Charles A. Rain "Tony" (Wanda Hendrix Rain).
Joys of her life included four grandsons, Nathan Rain (Jennifer), Jeremy Rain, Scott Monahan (Maggie), and Patrick Monahan (Krista), and her eight great-grandchildren, Emma, Andrew, Miles, and Lily Rain, and William, Jack, Charlotte, and Connor Monahan.
Along with her parents and husband, she was preceded in death by a sister, Helen Wimmer.
Nadine was a member of Elm Street Presbyterian Church for over 50 years, serving as a den mother and member of the choir. She later joined Emmanuel Free Methodist Church in Alton and dearly loved Pastor Mark, his family, and wonderful church members. She was a member of the Junior Service League of Alton and served as co-chairman of several fund-raising stage shows, always as an active participant as a singer, with her sister-in-law, Betty Rain playing the piano for her. She was employed at Blu-Fountain Nursing Home in Godfrey for 16 years as the Activity Director. After being diagnosed with rheumatoid arthritis in 1974 she became a volunteer for the Central Illinois Chapter of the Arthritis Foundation in Peoria. She was hired by that organization in 1980 to open a branch office, serving down-state Illinois. Years later, Alton Memorial Hospital provided space for an office, and she worked tirelessly to provide information to so many. She started the Arthritis Foundation Water Exercise programs in Alton, Bethalto, Edwardsville, Godfrey, and Granite City. She attended every workshop to educate herself about RA and shared her knowledge at hundreds of health fair seminars across the state.
Retiring in 1997, she continued to serve as a volunteer and board member until 2000. Her severe form of RA never kept her from trying to assist others and doing all the things she loved.
Family was everything to her, thus making it so difficult to say goodbye. We will love and cherish her memory and are faithful that mom and dad are rejoicing being together again. We thank so many family and dear friends for their prayers, comfort, and kindness. We are also so grateful to Alton Memorial Rehab (Eunice Smith). They showered her with kind hearts and hands during the short time she was there.
Visitation will be from 10:00 a.m. until the time of the funeral service at 11:00 a.m. Tuesday, May 31, 2022, at Gent Funeral Home in Alton. Reverend Mark Scandrett will officiate. Burial will be at Valhalla Memorial Park in Godfrey.
Memorials may be made to the Emmanuel Free Methodist Church in Alton, the Arthritis Foundation, or a charity that you love in her honor. Online guestbook and information may be found at www.gentfuneralhome.com
Obit Provided By:
Gent Funeral Home