Morrie Giaudrone
Gillespie | Thursday, April 21 2022 |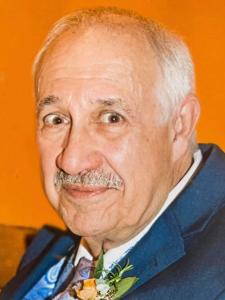 Morrie Giaudrone, age 81, of Gillespie, Illinois, peacefully passed away on Thursday, April 21, 2022, in his home surrounded by loved ones.
Morrie was born April 9, 1941, the son of Morris and Helen (Ferrari) Giaudrone in Wilsonville, Illinois. He graduated from Gillespie High School in 1959 and then earned his Bachelor's and Master of Science degrees from Southern Illinois University Alton and Edwardsville. After graduation, Morrie taught for over 40 years as an art and science teacher in the Gillespie School District. He loved teaching and his students, many of whom will forever remember that "art is a thinking process." Morrie was an accomplished artist having won many awards for his animal illustrations and taxidermy. In addition to teaching, Morrie owned and operated Giaudrone's Animal Artist Studio, where he proudly showcased over 200 taxidermy mounts from 6 continents. Morrie was an avid fisherman and big game hunter and traveled the world from the Arctic to Australia. He could captivate a crowd with true stories and tall tales of his many exciting and harrowing adventures. While Morrie was a well-respected teacher and taxidermist, he will be fondly remembered for his corny and coarse sense of humor and antics that often drew groans and headshakes from his family.
Morrie met his future wife, Trudy (Hall), while at college and they married in 1967. They went on to raise 4 wonderful children, Heather, Holly, Bret, and Lindsey. He most loved spending time fishing with his son, enjoying fish fries with his family, and arguing over who caught the most and biggest fish.
Morrie was preceded in death by his parents, Morris and Helen.
He is survived by his wife, Trudy; daughters, Heather Hayes, Holly (Matt) Nejmanowski, and Lindsey (Matt) Irwin; son, Bret Giaudrone; and grandchildren, Ashlen Hayes, Blake Hayes (Mirena Pebley, fiancé), Nolan Hayes, Avery Nejmanowski, Jace Nejmanowski, Jax Nejmanowski, Aubrey Giaudrone, Liam Irwin and Charlie Irwin.
Per Morrie's request, his body will be cremated. Visitations for the public will be on Saturday, April 30, 2022, from 10:00 a.m. to 12:00 p.m. at Kravanya Funeral Home in Gillespie, Illinois. In lieu of flowers, donations can be made to Partnership for Educational Excellence.
Obit Provided By:
Kravanya Funeral Home