Morgen Schroeder
Jerseyville | Thursday, November 3 2022 |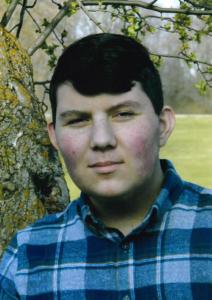 Morgen Ryan Schroeder, 18, passed away unexpectedly at his home Thursday morning, November 3, 2022, from an epileptic seizure, a condition he had controlled since six months of age.
He was born in Alton, Illinois on May 22, 2004, the third of eight children born to Steven and Carol (Macias) Schroeder. Morgen grew up in Jersey County his entire life surrounded by all his brothers and sisters.
He attended St. Francis/Holy Ghost Catholic School and graduated in 2022 from Jersey Community High School, both in Jerseyville. He was currently attending Southern Illinois University-Edwardsville, where as a freshman, he was studying to obtain a BS in Criminal Justice, which would lay down the groundwork for him to obtain his dream job of becoming a police officer.
His great love was soccer, and his favorite team was Manchester United and had aspired to watch them one day in person. Morgen was good to others, easygoing, and appreciated all of his family and friends who drove him around since, due to his illness, he couldn't obtain his driver's license. Just recently, however, he received his license, and couldn't wait to repay the favor to those who had been so generous to him. He helped others in various ways by sharing a meal, sharing time, hanging out with friends, and playing Monopoly, soccer, and Fortnite.
Morgen only had good things to say about others and saw things in people that others did not see, and something that he wrote recently couldn't be any more true;
".......always be grateful for people and things around you. Gratitude, be happy, be grateful, love one another, appreciate each other, spend time with each other."
He is survived by his parents, Steve Schroeder and Carol Macias both of Jerseyville; his seven siblings, Masen, Miranda, Madison, Meredith, Maria, Mitchell, and Myles Schroeder; grandparents, Andy and Therese Macias, and Mary (Carpunky) Landon all of Jerseyville, and Paul Schroeder of Marissa; aunts and uncles, Kevin and Jenny Macias of Carmel, IN., Brenda and Brian Allen of Fieldon, Matt and Angela Derrick of Jerseyville, Karen Schroeder, and her fiance' Craig Marshall of Fieldon, James Schroeder and Adam Schroeder both of Jerseyville; cousins, Kyla and Isabel Allen, Jack, Drew, and Alex Macias, Maleah, Corah and Luca Derrick, Jack and Cole Clemmer, Sophia and Sebastian Schroeder, and Noah French, as well as numerous great aunts and uncles, and many friends.
Visitation will be from 4 to 8 p.m. Monday at Crawford Funeral Home in Jerseyville, with a Rosary Recitation at 8 p.m.
A Mass of Christian Burial will take place at 10 a.m. Tuesday at Holy Ghost Catholic Church in Jerseyville, with Father Hyland Smith officiating.
He will be laid to rest in St. Francis Xavier Catholic Cemetery in Jerseyville.
Memorials may be given to Morgen's family in the care of Crawford Funeral Home.
November just happens to be National Epilepsy Awareness Month.
Obit Provided By:
Crawford Funeral Home