Michael (Mike) L. Stoner Sr.
Alton | Sunday, February 28 2016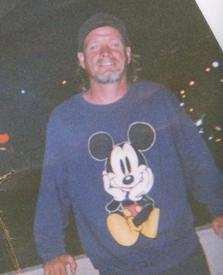 Michael (Mike) L. Stoner Sr.
Michael (Mike) L. Stoner Sr., age 49, of Alton, died February 28, 2016 at 5:15 a.m. at Alton Memorial Hospital.
Born August 26, 1966 the son of David P. and Patricia (Tolle) Stoner. He attended Southwestern High School and later received his GED degree. He did landscaping and odd jobs over the years.
Surviving are his dad, David P. Stoner Sr. of Florissant, Missouri, an older brother, Larry (Dawn) Stoner of Bunker Hill; a younger brother, David P. Stoner Jr. of Alton; his former wife, Christine K. (MacArthur) Stoner of Alton; two children: a daughter, Jaqueline Vetter of Brighton and a son, Michael Stoner Jr. of Belleville.
He proceeded in death by his mother, Patricia (Tolle) Stoner. Cremation rights were granted. A memorial service will be held at a later date for family and friends.
How's Heaven
How's Heaven?
I've never been
Since you're there, I thought maybe you could tell me?
God said he's making everything like new
He created this special place for special people like you
The Kingdom of Heaven
You didn't get to pack your things or say goodbye to all of us like when you went off to college
So how's Heaven?
I know your faith in Jesus gives you eternal life
You are magnificent angel with the glory of God
Just like Abraham, you might have to walk alone and leave everything behind
God has given you peace with your new home in Heaven
So how's Heaven?
I called on the Lord all night and I wouldn't let go
I feel like I prayed every prayer
I have to praise my way out of this one
Life is a fight and it doesn't fight fair
Heaven is where we all should want to go there right?
So how's Heaven?
What does it feel like to have wings now?
God has now received you to himself
You are an angel in the sky
Heaven seems like the place to go
There's no pain or death in heaven
I want to go
(Revelation 21:2)
"And God will wipe away every tear from their eyes; there shall be no more death, nor sorrow, nor crying. There shall be no more pain, for the former things have passed away"
So how's Heaven??
I want to go….