Michael Kane
Naples, FL | Monday, December 20 2021 |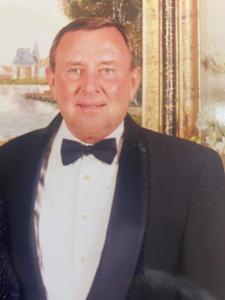 Michael Joseph Kane, 83, of Naples, Florida (formerly Alton, IL), passed away on December 20, 2021. He is survived by his loving wife of 60 years, Joyce (Helm), and their large and devoted family.
Mike was born on May 10, 1938, to George and Salome Kane, in Wood River, IL. He attended St. Bernard's grade school and graduated from East Alton Wood River Community High School. After high school, Mike studied Mechanical Engineering at the University of Missouri School of Science and Technology in Rolla, Missouri, where he was also a member of Triangle Professional Engineering Fraternity.
After graduation, Mike joined his brother Pat Kane Mechanical, a business started by their father in 1949. He served as President of the company for many years and could often be heard telling his family how lucky he was that not a day went by that he didn't love going to work. In addition to Kane Mechanical, Mike was co-owner of Rolling Hills Golf Club in Godfrey, IL, for over 40 years, thus solidifying Mike's love affair with the game. His family could not have been more proud of Mike than when he was inducted into the Alton Illinois Golf Hall of Fame and again when he shot his 11th hole-in-one.
Dedicated to his country, his faith, and his community, Mike proudly served as a member of the Army Reserves. He was a member of the Godfrey Knights of Columbus Fourth Degree Order (1959) and was an active parishioner at St. Bernard's Catholic Church in Wood River, IL; St Mary's Catholic Church in Alton, IL; and St. William's Catholic Church in Naples, FL.
During Mike's expansive career, he served as President of the Wood River Jaycees, and was a valued member of the following boards: Marquette High School, Alton, IL; Liberty Bank, Alton, IL; Lockhaven Country Club, Godfrey, IL.
On August 5, 1961, Mike was married to the love of his life, Joyce (Helm), by Reverend Joseph Miller, uncle of the groom. Together, Mike and Joyce went on to have 6 children, 19 grandchildren, and a great-grandchild due February 2022. In June of 1997, Mike retired from Kane Mechanical, and he and Joyce moved to Naples, FL. There was nothing Mike loved more than playing golf with Joyce or his many friends at Pelican Marsh Golf Club, where he was a member. When Mike turned 75, he made the trip of a lifetime with his 4 sons when he took them on a golfing trip to Ireland. Mike and Joyce were avid travelers, exploring many parts of the world together.
In August, Mike and Joyce were blessed to celebrate their 60th Wedding Anniversary surrounded by family. Being together with his family was something Mike always cherished. While God has gained an angel, the world has lost an amazing example of kindness, humility, and love. Mike was a true gentleman and touched many lives.
Mike is preceded in death by his parents, and his brother, Pat Kane (Dorothy Begnel). He is survived by his devoted and loving wife, Joyce (Helm); his six children: Tim of St. Louis, MO, children - Michael (Jordan, and soon-to-arrive great-grandson), Megan (Scott), Madeline, and Mary Katherine; Kathy (Todd) Zaun of Charleston, SC, children - Max, Tanner, Spencer, Briggs; Stephen of St. Louis, MO; Bob (Elaine) of Alton, IL, children - Adam, Sam, Grace, Anna; Theresa (Jeff) McKell of Weldon Spring, MO, children - Jackson, Reese, Carter; Dan (Danielle) of Jacksonville, FL, children - Harlow, Cameron, Evan, Brennan.
On Wednesday, December 29, 2021, at 10 am, a memorial mass will be celebrated at St. Mary's Catholic Church, 519 East 4th St., Alton, IL, 62002. Following the burial, the family will receive friends at a Celebration of Life at the Knights of Columbus Hall, 1713 Stamper Ln., Godfrey, IL, 62035.
Condolences can be shared online through Fuller Funeral Home at www.fullernaples.com.
Elias, Kallal and Schaaf Funeral Home in Godfrey is in charge of arrangements.

Online condolences and guest book can be found at www.eliaskallalandschaaf.com

In lieu of flowers, the family urges donations be made to St. Mary's Catholic Church and School or the American Cancer Society.
In lieu of flowers, the family urges donations be made to St. Mary's Catholic Church and School or the American Cancer Society.
Obit Provided By:
Elias, Kallal & Schaaf Funeral Home