Mary Lavey
Fieldon | Thursday, October 1 2020 |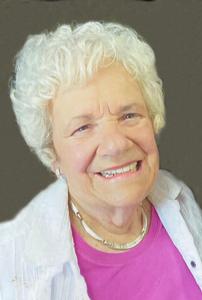 FIELDON ' Mary Faye Lavey, 85, passed away at 11:30 a.m., Thursday, October 1, 2020 at her residence.
She was born on June 16, 1935 in Fidelity to the late Edward and Hazel (Devening) Dunham. Faye grew up, along with her siblings, on the family farm in Fieldon.
Faye worked at the International Shoe Factory in Jerseyville for a short while, where she was set up on a blind date with the love of her life, Donald Richard Lavey. The two would marry on December 29, 1954 in Fieldon and together they shared in 46 years of marriage, prior to his death on August 12, 2001. Faye's primary focus in life was that of a devoted housewife. She excelled at taking care her home and yard and managed her children and the farm with ease.
She was active, smart and resilient and no matter what life through her way, love always prevailed. She loved her husband immensely, and even after his passing she never stopped talking about him, not once. Her children and grandchildren were her absolute pride and joy and she cherished the memories she was able to create with them all.
She demonstrated a devout faith in the Lord and was raised in the church by her parents and never stopped attending. Her favorite saying was 'We will 'Pray for the best, but kids, we will take what God sends us' Her church family at Fieldon United Church of Christ truly became an extension of her own family. When she could no longer attend in person, she asked about everyone each week and wanted to know how each family was doing.
As her health began to decline and she was no longer able to be the active housewife and caretaker of the home that she had always been, her faith never waivered. She never once complained about no longer being able to do the things she once enjoyed. Led by their hearts and her example, her entire family came together to care for her with the same love and compassion that she had so graciously poured out to them all throughout the years.
Surviving are six children and their spouses, Gerald and Beverly Lavey of Fieldon; Cheryl and Ronald Crank of Warner Robbins, Georgia; Eddie Lavey of Fieldon; Judy and Ed Nurnberger of Fieldon; Donna and Mark Hayes of Moro and Adam Lavey of Fieldon; 13 grandchildren; 43 great-grandchildren; a sister and brother in-law, Deborah and Steve Haag of Jerseyville; two brothers and a sister in-law, Joseph Dunham and Ralph and Yonnie Dunham, all of Jerseyville; along with a host of nieces, nephews and extended family members.
In addition to her parents and her husband, she was preceded in death by her twin sister, Margaret Mae; as well as a sister in-law, Bernita Dunham.
Private services were held on Wednesday, October 7, 2020 at Fieldon United Church of Christ with burial at the Fieldon Cemetery.
Memorials may be given to the Fieldon United Church of Christ, in care of Crawford Funeral Home in Jerseyville, who has been entrusted with arrangements.
Memories may be shared with Faye's family by visiting www.crawfordfunerals.com
Obit Provided By:
Crawford Funeral Home