Mary Catherine Geisler
Jerseyville | Tuesday, January 26 2021 |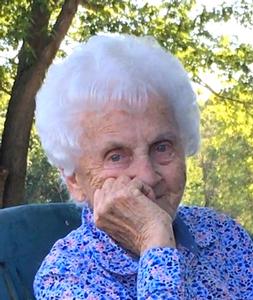 JERSEYVILLE - Mary Catherine Geisler, 97, died Tuesday, January 26, 2021, at Riverside Rehab and Health Care in Alton.
She was born in Jersey County, Illinois on May 23, 1923, the daughter of James and Frances Henrietta (Coleman) McCauley.
She married Edwin Alexander Geisler on June 17, 1941, in Saint Charles, Missouri. Together they raised their family of four children in the Medora/Summerville area and shared 38 years of marriage prior to his death on September 9, 1979.
Mary was a hardworking mother, grandmother and great grandmother. She raised her own livestock, and always tended to a huge garden. Every Sunday consisted of a fried chicken dinner with all the fixins. Her home in Summerville was always open to all her family and friends.
Surviving are a daughter, Gloria Fitzgibbons of Jerseyville; two sons and a daughter-in-law, Henry Geisler of Medora and Jack and Barbara Geisler of Medora; seven grandchildren and their spouses, Mark Fitzgibbons, Kathy (Tim) Weaver, Jana (Jeff) Ferguson, Kelley (Darin) Werts, Jack (Beth) Geisler, Steve Geisler, and Charles Miller; ten great-grandchildren and their spouses, Matt Weaver, Kari Weaver, Hayden (Kaci) Geisler, Trevor Ferguson, Jayme (Tayler) Geisler, Jessica Werts, Lauren Ferguson, Tanner Werts, Brady Geisler, and Logan Geisler; a great grandbaby due in August; a sister, Frances Gabriel of Alton; and a sister-in-law, Dorothy McCauley of Brighton.
In addition to her parents and husband, she was preceded in death by a son, Charles Geisler on December 22, 1999; a son-in-law, William T. Fitzgibbons; two brothers, James "Buddy" McCauley and William "Jake" McCauley; and five sisters, Ruth St. Peters, Margaret McCauley, Dorothy Baker, Edna Bounds, and Betty Lake.
Visitation will be from 5 to 7 p.m. Friday at the Crawford Funeral Home in Jerseyville, where funeral services will be conducted at 10:30 a.m. Saturday.
Burial will be in Shipman Cemetery.
Memorials may be given to St. Jude Children's Research Hospital. Memories may be shared at www.crawfordfunerals.com.
Obit Provided By:
Crawford Funeral Home