Mary Brown
Edwardsville | Tuesday, November 2 2021 |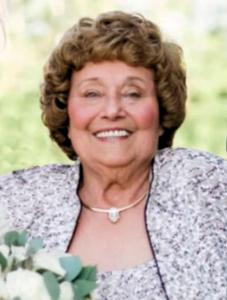 Mary Ann Brown, age 86, of Edwardsville, IL, passed away at Stillwater Senior Living in Edwardsville at 12:15 pm, on Tuesday, November 2, 2021.
Mary Ann was born in Madison, IL, on January 21, 1935, the daughter of the late Frank & Stella (Kowalski) Petrosky. She married Clarence Brown on May 7, 1955. Clarence preceded her in death on March 25, 2020.
Mary Ann is survived by her daughter, Debra Brown Schreiber, of Edwardsville & significant other Phillip Solomon; a daughter-in-law, Renee Brown, of Edwardsville, 5 grandchildren, Kyle & fiancée Kelsey, Kevin, and BreeAnn Schreiber, Todd & wife Amanda Brown, and Tyler & wife Lindsay Brown; two great-grandchildren Grayson Brown and Tripp Brown; a sister, Kathleen Dollins; two nieces, Mary Dollins and Sharon & husband Bob Landsee, and a nephew, John & wife Jane Dollins.
Mary Ann was an avid reader and became a librarian working for Edwardsville Public Library for fifteen years. She was a wonderful mother, grandmother, and great grandmother. She had a kind heart and was always willing to help others.
A visitation will take place on Thursday, November 4, 2021, from 10:30 am until 11:30 am at Weber & Rodney Funeral Home in Edwardsville. A funeral service will follow at 11:30 am with Rev. Jimmy Spear presiding. Interment will follow at Valley View Cemetery in Edwardsville. The family has requested memorials to the Edwardsville Public Library or Main Street Community Center. Weber & Rodney Funeral Home is in charge of the arrangements. Online condolences may be expressed at weberfuneralhome.com.
Obit Provided By:
Weber & Rodney Funeral Home