Martha Rynders
Alton | Monday, January 25 2021 |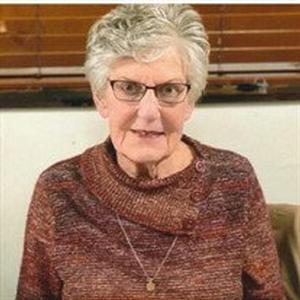 Martha Ann (Prullage) Rynders, 89, of Alton, passed away on Monday, January 25, 2021, at Alton Memorial Hospital in Alton, IL with her loved ones by her side.
The daughter of Louis & Martha (Kunkler) Prullage, was born on October 28, 1931, in Alton, IL. She graduated from Marquette Catholic High School in 1949 and married her high school sweetheart, Harold Joseph Rynders, in 1952. Harold & Martha had four children and celebrated 24 years of marriage before Harold lost his battle to cancer. She worked in various roles for the City of Alton, retiring in 1998 to spend more time with her grandchildren. Martha was a lifelong, devout Catholic and member of SS. Peter & Paul Catholic Church in Alton, IL.
Throughout her life, she was a fun, thoughtful, and loving mother who took great pride in her family. She was very friendly, never met a stranger, and always had a kind word for all. Like clockwork or magic, loved ones could always count on her cards to arrive on the day of a birthday or holiday. She loved sports, painting, baking cookies, snickers bars, eating ice cream with her grandchildren, and was an avid fan of the St. Louis Cardinals and Blues. Affectionately called "Grandma Mat" by her grandchildren and their friends, she was commonly found in the stands of her grandchildren's sporting events cheering for them and their team. In addition, Martha enjoyed traveling the United States on bus trips with her sisters and annual float-trips in the summers. She was sharp as a tack, loved cross-word puzzles, and Wheel of Fortune. She could tell you anything you ever wanted to know about Alton and those who lived there. Martha was a treasure and will be missed by all who were lucky enough to have known her.
She is preceded in death by her beloved mother, father, husband, son Jeffery "Jeff" Rynders Sr, three brothers, Robert "Bob" Prullage, James "Jim" Prullage, and Thomas "Tom" Prullage; and four sisters Patricia "Pat" Storm, Eugenia "Jean" Tosovsky, Kathryn "Kaye" Mathews, and Charlene Prullage.
Martha is survived by her three children, Mary (Kirby) Holmes of Carrollton, IL, Christopher Rynders Sr of Alton, IL, and Karen Mohr of Alton, IL; ten grandchildren, Logan Holmes (Ashley Isringhausen), Shannen Holmes, Alex Holmes (Mallory Maag), Christopher "Joe" Rynders Jr (Erin Brennan), Frances Rynders (Chris Wilson), Lewis Rynders, Jeffrey Rynders Jr, Michael Rynders Sr, Allison Mohr (Chris Harrington), and Charles Mohr III; seven great-grandchildren, Jacob Holmes, Vanna & Shannen "Buddy" Holmes, Michael Rynders Jr, Kendall & Kenlee Harrington, and Lockelan Farlow; her sister-in-law, Pat Prullage; and numerous nieces, nephews and extended family.
The visitation will be from 9-11 a.m. Friday, February 5, 2021 at SS. Peter & Paul Catholic Church in Alton IL. A Memorial Mass will follow at 11 a.m. with Fr. Jeff Holtman as the celebrant.
Inurnment will follow at St. Patrick's Cemetery in Godfrey.
Memorials may be made to SS. Peter & Paul Catholic Church or Marquette's Drew Schmidt Memorial Scholarship Fund.
Obit Provided By:
Elias, Kallal & Schaaf Funeral Home