Mark Ostendorf
Godfrey |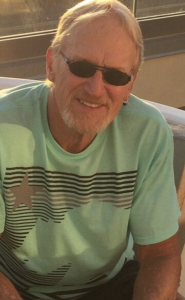 Mark Alan Ostendorf, 73, died at 3:49p.m. Wednesday, October 4, 2023, at his home in Godfrey. Born April 3, 1950, in Alton, he was the son of Kenneth and Delores (Lautner) Ostendorf. He married Susan Marie Redman on October 8, 1988 in Alton. She survives.
Mark grew up in Edwardsville, IL and graduated from Southern Illinois University in 1972. He retired as a lead investigator with the Illinois Department of Children and Family Services.
Mark is survived by a sister, Diane Ostendorf; sister-in-law, Liz Boyd and her husband, Bruce, Mark's best friend of 36 years; sister-in-law, Becky (Mark) Wolf, and brother-in-law, Bob Redman. He is also survived by well loved nieces and nephews, Teresa Baskin, Sam (Sarah) Boyd, Jennifer (Jay) Skelton, Paul (Jessica) Boyd, Scott Redman, as well as many dear great nieces and nephews. Mark is also survived by his lifelong friend, Bill Michel who came to visit from Colorado every October for over 40 years to watch the World Series. He was preceded in death by his parents, mother and father-in-law, Bud and Jane Redman and sister-in-law, Eileen Redman.
Mark was a kind and gentle soul who loved his family and friends dearly. He loved all animals and truly loved his late dogs, Dylan, Jazzy, Ozzie and Ben. He loved fishing and working in his beautiful yard and loved spending his winters in Florida. He was a man of few words but like his great nephew, Jack said, "he was a quality talker, not a quantity talker." Family and friends are invited to join us for a Celebration of Life from 1:00-4:00 p.m. on Saturday, November 18, 2023 at Rolling Hills Golf Course, 5801 Pierce Lane, Godfrey, IL 62035. Memorials may be made to the 5A's Animal Shelter.
Gent Funeral Home in Alton is in charge of arrangements. Online guestbook and information may be found at www.gentfuneralhome.com
Obit Provided By:
Gent Funeral Home