Marie Thole
Highland | Thursday, March 4 2021 |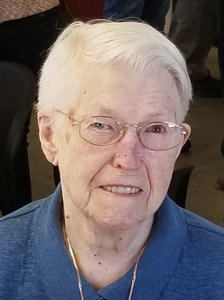 Marie B. Thole, age 93 of Highland, IL, died Thursday, March 04, 2021, at Faith Care Center in Highland, IL.
She was born on Thursday, May 12, 1927, in Aviston, IL, the daughter of Henry and Anna (nee Deiters) Hilmes.
On Tuesday, October 28, 1947, she married Vincent Thole at St. Francis Catholic Church, Aviston, IL, who passed away on Tuesday, June 22, 1999.
She was a member of Saint Paul Catholic Church, Highland, IL; St. Anne Altar Sodality; and Knights of Columbus Ladies Auxiliary.
Mrs. Thole was born north of Aviston, IL, and grew up on a farm. She was one of five daughters. Prior to her marriage, she worked at St. Joseph Hospital in Breese. After her marriage, she moved to Highland and worked at Wick Organ Co. for six months. She raised her family. She enjoyed quilting and piecing quilts together for people for over thirty years. She also enjoyed traveling to Branson, "Mystery" trips, and playing cards, especially Euchre, on Saturday evenings.
Survivors include: Sons - Leonard G. (Janet) Thole, Highland, IL: Ronald W. (Ann) Thole, Sainte Genevieve, MO; Daughters - Helen M. (Carl) Lammers, Highland, IL; Carol A. (Paul) Nativi, Edwardsville, IL; Grandchildren - Regina M. (Christopher) Walter; Michelle L. Thole; Erica S. (Friend Kurt Detmer) Eversgerd; Heather R. (Jeremy) Hultz; Scott V. (Melissa) Thole; Carla A. (Shawn Knepp) Lappe; Terry A. (Julie) Lammers; Anne C. (Troy) Walton; Michael E. (Janelle) Nativi; Roxanne M. (Brian) Flentge; Bernadette A. (Jeff) Humphreville; Step Grandchildren - Ryan Drinkard; Beth (Eli) Roussin; Great Grandchildren - Alexis Walther; Lauren Walther; Megan Walther; Nathan Walther; Brandon Walther; Corrine Kemper; Anna Kemper; Ivy Kemper; Samantha Eversgerd; Travis Eversgerd; Cora Eversgerd; Mackenzie McMullen; Lucas Hultz; Step Great Grandchildren - Kayla Hultz; Dalen Hultz; Logan Hultz; Great Grandchildren - Adalyn Thole; Avery Thole; Audrey Thole; Sydney Lammers; Caitlin Lammers; Trent Lammers; Danielle (Fiancé-Kraig Sullivan) Lappe; Nicole Lappe; Ashley Lappe; Nora Walton; Caroline Walton; William Nativi; Emma Nativi; Andrew Nativi; Paige Flentge; Blaine Flentge; Step Great Grandchildren - Linda Roussin; Hunter Roussin.
She was preceded in death by: Father - Henry A. Hilmes; Mother - Anna Marie (nee Deiters) Hilmes; Husband - Vincent Thole (Died June 22, 1999); Sisters - Martha K. Thole; Bertha E. Thole; Agnes C. Heldorfer; Henrietta M. Wecker.
Arrangements are being handled by Spengel-Boulanger Funeral Home in Highland, IL.
Visitation will be held from 8:00 AM to 10:00 AM on Saturday, March 13, 2021, at Saint Paul Catholic Church in Highland, IL.
Funeral Mass will be at 10:00 AM on Saturday, March 13, 2021, at Saint Paul Catholic Church in Highland, IL, with Rev. Fr. Pat G. Jakel, Pastor, officiating.
Interment will be at Saint Joseph Catholic Cemetery in Highland, IL.
Memorial contributions may be made to St. Paul School Educational Foundation.
Obit Provided By:
Spengel-Boulanger Funeral Home