Margaret Davidson
Godfrey | Wednesday, January 26 2022 |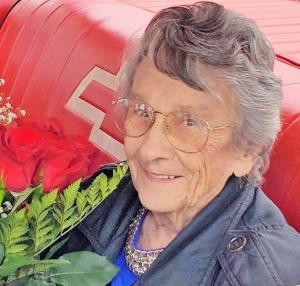 Margaret L. Davidson, 92, of Godfrey, passed away Wednesday, January 26, 2022, at her home. She was born November 29, 1929, in Alton, IL to Clyde and Helen (nee: Tendick) Nelder.
She married Arthur Davidson on March 18, 1949, in Godfrey; he preceded her death in 2015.
She is survived by 2 sons, James (Susan Westphal) Davidson of Salem, OR and Michael (Kathleen) Davidson of Alton; a daughter, Debbie (Henry Allhoff) Davidson of Chesterfield, MO; daughter-in-law Judy Davidson; 6 grandchildren, Jamie, Jennifer, Joelle, Noah, Madilyn and Madison; 6 great-grandchildren, Max, Kaylynn, Cloverlee, Maverick, Mayvory, and Valen; a sister and brother-in-law, Billie (Ed) Groshan; sister-in-law Bernice Davis; 14 nieces and nephews; cherished extended family; long-time friends and young friends, all of whom kept her engaged and laughing.
She was preceded in death by her parents; son, Lane Davidson; grandchildren, Lani and Zachary Davidson; sisters, Eileen Scheffel and Shirley (Joe) Pfaff; brother, James (Barbara) Nelder; and brothers-in-law Cal Davis and Vernon Scheffel.
Throughout the years, Margaret was involved in numerous matters of community improvement. She was instrumental in the passage of dog control ordinances in Godfrey. Interest in this issue resulted in the largest-ever town hall meeting in Godfrey's history. Over the last several years, Margaret was a major proponent of a stormwater project that resolved flooding problems in her neighborhood.
Margaret had various creative hobbies which included floral arrangements, crochet, jewelry crafts, and plastic canvas creations. But, she was particularly known to be an expert at working jigsaw puzzles and amassed quite a collection to keep up with her pace.
Adapting to modern times, Margaret and Art learned how to use a computer, email, search the internet, Skype, and use a cell phone when they were in their 80's. With that keen intellect and a sense of humor, Margaret remained independent until her final days, living on her own and safely maintaining her driver's license.
It was a notable trait that when Margaret met anyone, she made a particular effort to learn their name, even if their acquaintance would be brief. She was a good listener and her wisdom was valued by many. For her 90th birthday, over 70 friends and family members honored her by attending the celebration. She will be greatly missed.
Margaret and Arthur asked, in lieu of services, that their ashes be scattered at sea. Memorial donations may be made to a local charity of your choice or the St. Louis Senior Dog Project. Cremation services entrusted to Paynic Home for Funerals in Rosewood Heights, with an online guestbook available at www.paynicfh.com
Obit Provided By:
Paynic Home for Funerals