Louis Enke
Bunker Hill | Thursday, February 20 2014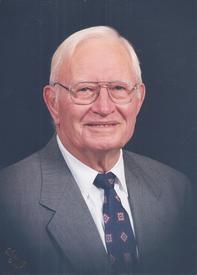 Full Name - Louis Enke
Resident – Bunker Hill, IL
Place of Death - Eunice Smith Nursing Home, Alton, IL
Date and Time of Death - Thursday, February 20, 2014 at 6:25 pm
Date and Place of Birth - April 12, 1919, in Bunker Hill, IL
Age at Time of Death - 94
Full Name of Parents - Louis G. Enke & Rose (Strecker)
Married - Pauline (Bertels) Enke on November 16, 1947, Emmaus Lutheran Church, Dorsey, IL
Graduate of Bunker Hill High School
Occupation - Farmer: Dairy, Swine and Grain
Veteran - Served in Army during WWII from 1942-1945
Member of - Zion Lutheran Church of Bunker Hill served many offices including Treasurer, Financial Secretary, Trustee, LLL Rep, dart ball player and Men's Club, Kiwanis, MJM Elect Coop board.
Visitation - Friends may call on Sunday, February 23, 2014 at Kravanya Funeral Home Bunker Hill from 5:00 pm until 8:00 pm
Date and Time of Funeral - Monday, February 24, 2014 at 11:00 AM
Place of Funeral - Zion Lutheran Church in Bunker Hill, IL
Name of Minister - Rev. Terry Grebing Burial - Bunker Hill Cemetery, Bunker Hill, IL
Survivors – spouse, children, Daryl (Sherri) Enke of St. Louis, MO, Shirley (Rod) Maxwell of Windsor, IL, Wayne (Tina) Enke of Bunker Hill, IL, grandchildren, Jennifer (Brian) Wilcoxson of Warrensburg, MO, Laura (Travis) Brown of Murray, KY, Kari Enke of Rangeley, CO, Hannah (Dan) Slimer of Yelm, WA, Sarah (Matthew) Lewis of Columbus, IN, Noah Enke of Bunker Hill, IL, Kyle Maxwell of Houston, TX, Beth (Chase) Kahl of Sullivan, IL, Haley Maxwell of Windsor, IL, great-grandchildren, Aidyn, Kyle & Reagan Wilcoxson, Adelyn & Levi Slimer, Keren & Naomi Lewis, Kinley Brown
Preceded in Death By:Parents, Sibling, Lydia Weidner, Sibling, Adele Enke, Sibling, Darlene Hammond, Sibling, Frank Enke, Sibling, Marian Enke
Memorials- Zion Lutheran Church, American Legion Bunker Hill
Anyone wishing to send an online condolence may do so at www.kravanyafuneral.com
Kravanya Funeral Home, Bunker Hill, IL is in charge of the arrangements.
Obit Provided By:
Kravanya Funeral Homes