Lorraine Mack
Alton | Wednesday, April 6 2022 |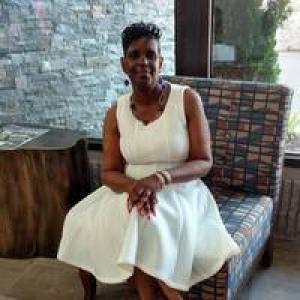 Lorraine Renee Mack, 58, of Alton, Illinois accepted her eternal wings on Wednesday, April 6, 2022. She was born on November 30, 1963. She was preceded in death by parents Rosie Williams and Andrew and Betty (Coleman) Mack.
Lorraine attended and graduated from Alton High on June 3, 1981, and attended Lewis and Clark Community College. After college, she begin working at Beverly Farms where her love and passion for people started. She enjoyed working with the elderly and disabled for many years. She worked in customer service at Sprint and Verizon for over 17 years. To know Lorraine, you know she did not meet a stranger. Growing up in a home where parents believed that church is your foundation, Lorraine professed her life to Christ at an early age and was baptized at Tabernacle Missionary Baptist Church in Alton. Later in her journey, she joined Morning Star Baptist Church and was very active. While there she took on the loving job of starting Expressions of Praise Dance Ministry. After 25 years of working with them, she loved and cherished them dearly and they will forever hold a special place in her heart. Lorraine LET THE LORD USE HER with Expressions of Praise until her health declined. There will be words/phrases that will FOREVER remind us ALL Lorraine is still with us - LET THE LORD USE YOU..….Imagine That…... That is NOT of God..…. How about them apples…... That's a big fat negative……How bout that – just to name a few.
In addition to her ONLY son Jeremiah (Xenna) Jones, she is survived by sisters - Linda (George) Robinson of Alton and Rhonda (Roderick) Hubbard of Lorton, Va.; brothers - Robert Griffin and William (Ann) Boykins of Jena, LA. Her six grandchildren who were her world…Andrew, Aaliyah, Christopher, Mariah, De'Wayne, and Jermaine; special cousins – Brenda Lancaster and Cedric (Patricia) Mack; nieces - Shenekia (Samuel) Stovall and Tanisha (Darrell) Cole. Her goddaughters – Rose Guess, Brittany Robinson, and Demetra Cunningham; nieces, nephews, cousins, and a host of family members and friends. Lorraine was preceded in death by her parents, sisters – Barbara Davis and Betty Jones, brothers Dennis L. Mack, Ladale Mack, and Cleophus Martin.
Visitation will convene from 5-7 pm on Friday, April 15, 2022, at Harrison Funeral Chapel and Cremation. Service will take place at 9 am on Saturday, April 16, 2022, at Morning Star Missionary Baptist Church, 1 East 6th Street, Alton, IL, where the Rev. Darrell J. McCrady, Sr. will officiate. Interment and committal services will follow at Upper Alton Cemetery. Repass will be at LaMay's Catering at 909 Broadway.
https://www.harrisonfuneralchapel.com/obituary/lorraine-mack
Obit Provided By:
Harrison Funeral Chapel