Lonnie Blackston
East Alton | Thursday, March 2 2023 |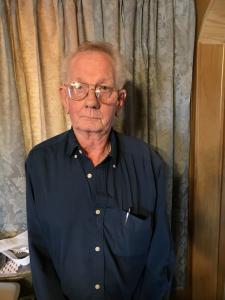 Lonnie E. Blackston, 78, passed away at 4:42 p.m., Thursday, March 2, 2023 at his residence.
Born April 3, 1944 in Hamburg, he was a son of the late James R. and Valeria M. (Grissum) Blackston.
Lonnie was a Utility Worker at McDonnell Douglas Company in St. Louis retiring after 30 years.
He loved to go to car shows.
He and the farmer Leola Mae Reed'Weinberg Adair were married on September 20, 1996 in Edwardsville. She survives.
Also surviving are one daughter, Redina and Denny Shrum of Fredricktown, Mo; two sons, Charles and Charlene Adair of Collinsville, George Adair of Collinsville; 12 grandchildren, Melanie, Brad, Joy, Christopher, Brandi, Loretta, Aaron, Shane, Shea, Lucus, Crystal, Thomas; 21 great-grandchildren and one great-great-grandchild; one brother Ricky Blackston of Kent , WA; very special neighbors, Shannon and Sandy Hobbs of East Alton, Deborah Tidwell of East Alton.
He was preceded in death by one son, LeRoy Adair; two sisters, Sharon Massingill, Shirley Northup.
A celebration of Lonnie's life will begin at 11:00 a.m. to 12:00 p.m. Tuesday, March 7, 2023 at Gray Funeral Home in Wood River with funeral services following at 12:00. Rev. James Overbey will officiate.
Burial will be at Wanda Cemetery in South Roxana.
Obit Provided By:
Gray Funeral Home