Linda Schmoeller
Alton | Sunday, April 18 2021 |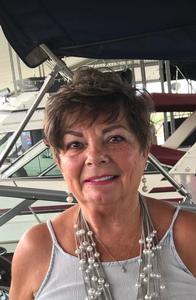 Linda Lou Schmoeller, 74, passed away at 6:45 a.m. on Sunday, April 18, 2021 at her home surrounded by her devoted and loving husband, daughters and Roxy (their Boxer). She was born May 10, 1946 in Battle Creek, MI, the daughter of the late Elmer "Bob" and Mary (Wertenburg) Roberts.
Linda was diagnosed with pancreatic cancer in November 2020 and she fought with great strength and courage until the Lord called her home. Linda Lou "from Kalamazoo" lived everyday of her life to the fullest. She loved making her house a home, hosting all family get togethers, holidays and birthdays. She loved working in her shade garden, walking, lifting weights and boating. Her family and friends meant the world to her and she loved them with all of her might. Aside from being a wonderful homemaker, she was an aerobics instructor for 25 years at Nautilus Fitness Center, a member of Alton-Wood River Sportsman's Club and Alton Motor Boat Club. On March 7, 1964 in Godfrey, she married the love of her life and lifelong partner Jon J. Schmoeller, he survives.
Also surviving are three daughters; Deanna L. Gunter of Alton, Lori A. Bloom (Ron) of Godfrey and Elizabeth M. Hisaw (Jon) of Godfrey, nine grandchildren; Ashley R. Calame (Nick), Jessica L. Schofield (Amy Wuellner), Jonathan G. Heintz, Olivia ZuZu Bloom, Zachary N. Bloom, Zoe A. Bloom, Clayton P. Long, London J. Hisaw and Mila M. Hisaw, four great-grandchildren; Madison R. Calame, Lillian K. Calame, Jase D. Calame and Jonathan K. Heintz, and one son-n-law, Dennis Freeman of Godfrey and one sister, Sandra.
Besides her parents she was preceded in death by one daughter, Sherry R. Freeman.
Visitation will be Wednesday, April 21, 2021 from 1:00 p.m. until time of the Memorial service at 4:00 p.m. at Gent Funeral Home in Alton. Memorials may be made to the 5A's Animal Shelter.
Additional information and online guest book may be found at www.gentfuneralhome.com
Obit Provided By:
Gent Funeral Home