Lillian Owings
Alton | Friday, November 18 2011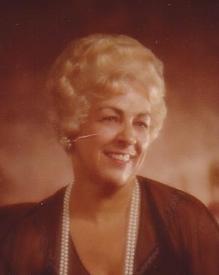 Lillian Deucker Owings, 90, died at 7:26 p.m. Friday, November 18, 2011 at Blu-Fountain Manor in
Godfrey. Born February 1, 1921 in Alton, she was the daughter of Ruby Floyd and Pearl (Lord) Robinson.
She worked at Wardein Pharmacy in North Alton and retired from C.I.U. Insurance in Alton. She was
a member of the First Baptist Church of Alton, the D.A.R., and various women's clubs in Alton. She
was also a member and past Matron of the Alton Chapter #775 Order of Eastern Star and a past Royal
Matron of the Amaranth Charity Court, and actively involved in International Order of Jobs Daughters.
In 1987 she was voted the First Lady of Alton. On December 17, 1938 in Troy, MO, she married Lester
L. Deucker. He preceded her in death on April 17, 2001. She later married Chester L. Owings. He
preceded her in death on December 25, 2008. Surviving are two daughters, Carolyn L. (Richard)
Gronemeier-MacAfee of Alton, and Jamie L. (Darwin) Watt of Mt. Vernon, Indiana, one son, Thomas
L. Deucker of Palm Springs, CA, four grandchildren, Kevin (Julie) Gronemeier, Jason (Lori) Watt, Brian
(Amanda) Watt, and Amie (Daniel) West, six great grandchildren, Ian, Sydney, Connor, Emeline, Jamie,
and Abigail, two brothers, Ray and Jimmy Robinson and many nieces and nephews who she loved
very much. She was preceded in death by two brothers, Earl and Robert Robinson. Visitation will be
from 9:00 a.m. until time of Eastern Star service at 10:45 a.m. followed by a funeral service at 11:00
a.m. Saturday, November 26, 2011 at Gent Funeral Home in Alton. Entombment will be at Valhalla
Memorial Park in Godfrey. Memorials may be made to the 5A's Animal Shelter. Online guestbook and
information may be found at
Obit Provided By:
Gent Funeral Home